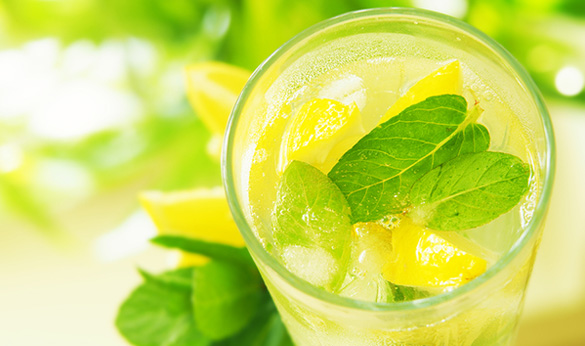 How To Make Homemade Vitamin Water for Stress Relief
If you have ever looked at the back of Vitamin Water, you will see a range of ingredients from easily recognizable ones to chromium polynicotinate. There is a push to eat, drink, and live more naturally and with this vitamin water recipe uses only natural fruits and water. Watermelon contains vitamin B6, which is known to help relieve stress and anxiety. Rosemary, on the other hand, has been shown to break down a chemical called acetyl-choline in the brain. This results in better memory, increased concentration, as well as a calmer frame of mind. The strawberries in this recipe contain phytonutrients that help to fight stress related inflammation. The lemon juice added to this recipe helps to maintain a healthy acid-alkaline balance.
Stress Relieving "Vitamin Water"
Ingredients:
2 cups watermelon, sliced thin, cubed, or slightly crushed
1 cup strawberries, sliced
2 sprigs fresh rosemary
Filtered water
1 tsp. lemon juice
Instructions:
Muddle the strawberries and rosemary together in a small mixing bowl. Add the watermelon, strawberry, and rosemary to a pitcher or container. Add the lemon juice and fill the container the rest of the way with filtered water. Let it cool for 4-6 hours and before serving you can strain out the fruits.