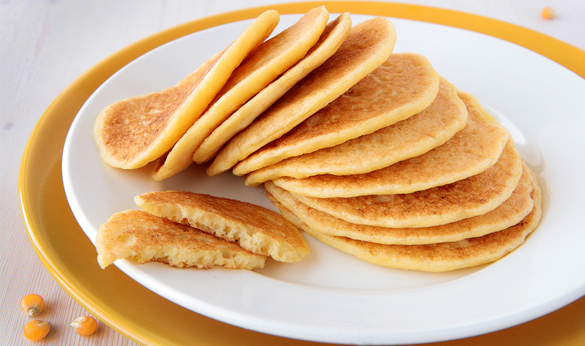 Honey Hoe Cakes
Adapted from Martha Stewart
Makes: 10 small cakes
Hoe cakes are a traditional southern breakfast dish that is most often described as a mix between a pancake and cornbread. The reason they are called hoe cakes is because poor southern farmers would take off the end of their hoe and heat it over a fire for a surface to fry on.
Ingredients:
1-1/2 cup yellow corn meal
1 cup all purpose flour
1/3 cup sugar
1 tsp. salt
1 tsp. baking soda
2 eggs
1-1/2 cup buttermilk
5 tbsp. corn oil
Directions:
In a large mixing bowl, mix cornmeal, flour, sugar, salt, and baking soda. Add in the buttermilk, eggs, and 4 tablespoons oil. Whisk until smooth.
Heat a large skillet over medium heat. Once hot, add remaining oil and heat until a drop of batter sizzles upon contact.
Working in batches, pour 1/3 cup batter per cake into the skillet. Cook, turning once, until golden, about 4 minutes.
Repeat with remaining batter (add more oil if needed). Serve with butter and honey.