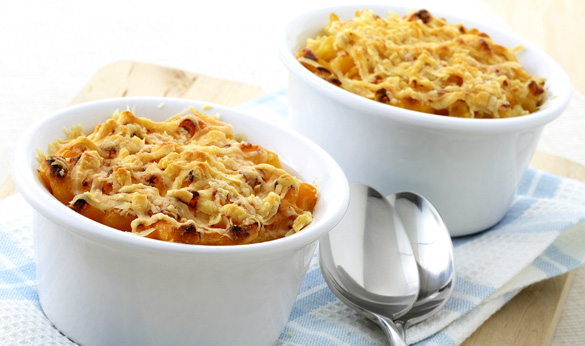 Homemade Macaroni and Cheese
Homemade macaroni is always superior to boxed macaroni. This recipe uses 5 different cheeses and can easily be customized to suit your taste. The panko top adds a crunchy element to the macaroni that balances out the creaminess.
Ingredients:
1 lb. macaroni pasta, uncooked
Water
1 tbsp. oil
8 tbsp. melted butter
2 cups half and half
1/2 cup shredded Muenster cheese
1/2 cup shredded mild cheddar
1/2 cup shredded sharp cheddar
1/2 cup shredded Monterey Jack cheese
8 oz. Velveeta, cubed or shredded
2 large eggs, lightly beaten
1 tsp. salt
1/8 tsp. pepper
1 tbsp. melted butter
1 cup panko bread crumbs
Directions:
Bring a large pot of water to boil, adding the oil. Add the macaroni to the boiling water and cook for about 7 minutes, or until the macaroni is somewhat tender.
Meanwhile, mix all of the cheeses together in a medium bowl. Add 1-1/2 cups of the mixed cheeses to a large mixing bowl. Mix the eggs, salt, half and half, and pepper into the cheese mixture.
Drain the macaroni and return it to the pot. Add the melted butter to the macaroni. Stir well. Add the cheese/half and half mixture to the macaroni. Stir well. Pour the macaroni sauce into a lightly buttered baking dish. Sprinkle the remaining cheese over the top of the macaroni in the dish. Add 1 tablespoon of melted butter to the panko bread crumbs, stirring well. Evenly sprinkle the bread crumbs over the top of the macaroni. Bake for 30–35 minutes in a 350 degree F oven.