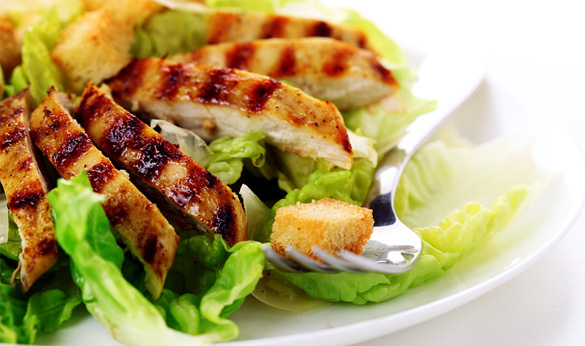 Fresh Romaine Spinach Salad With Grilled Chicken and Pear Vinaigrette
Summer is the perfect time for grilled salads, the weather is nice, the vegetables are in season, and everyone is trying to eat a little healthier. This slightly sweet and smoky grilled chicken salad is topped with a pear vinaigrette and if you wish to add a crunch, top with some crushed walnuts before serving.
Ingredients:
10-12 uncooked chicken tenders
3 tsp. ground pepper
1-1/4 tsp. Kosher salt
2 cloves of garlic, minced
2 ripe pears
1/4 cup balsamic vinegar
1/2 cup sweet white wine
2 tsp. Dijon or spicy honey mustard
1/2 cup olive oil
5-7 Romaine leaves
A few handfuls of fresh spinach
1 peeled carrot
4-5 pieces of prosciutto
Feta cheese
Directions:
Coat the chicken tenders in a mixture of 1 teaspoon of salt, pepper, and 1 clove of minced garlic. Cover and refrigerate the chicken.
Peel, core, and chop 1 pear into small pieces and place in a large mixing bowl. Add 1/2 cup wine, the remaining 2 teaspoons pepper, 1/4 teaspoon salt, 2 teaspoons mustard, 1 clove of minced garlic, and 1/4 cup balsamic vinegar.
Using a blender, blend the vinaigrette ingredients until smooth. Gradually add olive oil into the vinaigrette mixture and blend until smooth. Core and chop the remaining pear and add it to a salad bowl.
Julienne the carrot and add to the salad bowl. Chop the romaine and spinach into bite size pieces and add to the salad bowl. Slice the prosciutto into bite size pieces and add to the salad bowl. Mix the salad well. Cook the chicken tenderloins on a grill on medium-high, cooking until done (10-16 minutes). Once cooked, slice the chicken tenderloins into bite size pieces. To serve, add the salad mix to bowls. Top with sliced chicken, a sprinkle of Feta cheese, and a drizzle of Pear Vinaigrette.