Eagle Group Training For KaTom Employees!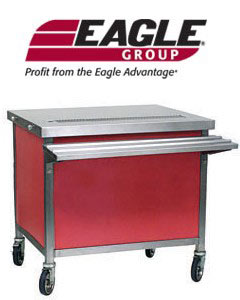 This week, the KaTom crew received training on Eagle brand products! While KaTom does not have this brand on the website as of yet, these fine shelving units and more will be added soon.
Quality...Value...Reliability: that's the Eagle advantage. From what we learned, this statement rings true. Where other tables and shelving units fail, Eagle brand products soar. Our teachers, David Terrell and Dan Matlock, first educated us on Eagle's eco-friendly background. The Eagle factory, if you didn't know, was recently outfitted with solar panels to help conserve the amount of energy used in the factory's manufacturing process. The company also uses a lot of recycled stainless steel and strives to conserve other resources like water.
When it comes to their table offering, like many brands, Eagle has both USA made as well as more economically built import models. Unlike other brands, though, Eagle offers a warranty on their import line. This way you can rest assure that no matter your purchase, you'll be getting a great piece!
What really caught our eye during the training session was what Eagle offers in the shelving department. Eagle manufactures all of their shelving in Dover, Delaware. These shelving units come in a variety of materials including zinc, stainless, and even epoxy. Although the Eagle epoxy shelving features a fantastic 15 year warranty, we found that the most impressive feature to be Quad Adjust design!
Unlike many other shelving units that are "adjustable but often provide the user with nothing more than a hassle, Eagle brand shelves are VERY easy to adjust. Let us explain: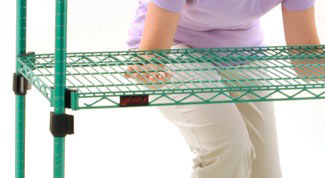 The Quad Adjust piece rests on the post. The shelf part of the shelving unit quickly and with little effort snaps onto the Quad Adjust, giving you a sturdy, adjusted shelf. Being able to easily adjust your shelving means you'll save space otherwise wasted! These shelving units also feature the Uni-Lok gusset system which recesses and welds the gusset to the blacking plate. This vastly improves the strength and stability of the unit, even when compared to CUSTOM units of other brands. Why pay custom prices when you can purchase a standard Eagle brand shelving unit for less? You can't afford not to try out Eagle Brand shelving!
We learned a great deal about other impressive Eagle products like their 304 stainless steel sinks, UL listed condensate hoods, and pan racks as well! Overall, this was a very informative training session that taught us a lot about the Eagle brand product's flexibility and superior construction!
Do you have any questions about Eagle? Leave us a question or comment on the blog, send us a tweet, hit up the KaTom Facebook wall, our Google+ account, or our Youtube channel!!!