If you have ever tried to make a breakfast smoothie or milkshake with a cheap residential blender, it may have proved to be more of a struggle than you thought. The blades never quite seem to do the job properly, and if you can't drink your shake with a straw, the purpose is defeated. A commercial blender is really necessary for smoothie magic.
When the Waring XTREME Blenderfrom Waring commercial was used in the residence or commercial atmosphere, our customers gave top reviews. The Waring Commercial Blender line carries a variety of different blenders for whatever your uses may be, but the Hi-Power XTREME blender series gets the job done and is perfect for smoothies, bar drinks, soups, salsas, sauces, desserts, dressings, and more. Eliminate the need for any other blender with the Waring XTREME series blender.
Features of the Waring XTREME Blender Model 14-MX1050XT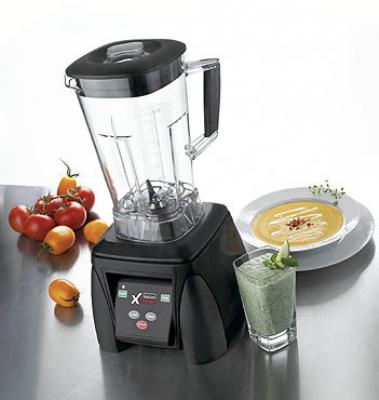 Heavy-duty 3.5 peak input HP motor
45,000 RPM (bare motor speed)
Great for smoothies, bar drinks, soups, salsas, sauces, desserts, dressings and more
Easy-to-clean electronic membrane keypad with high, low and pulse functions
One-piece dishwasher-safe removable jar pad
Sound enclosures available for quiet operation
Limited 3 Year Motor and 2 Year Parts and Labor
A KaTom reviewer who calls himself "ScoutFX says, "Everyday I make smoothies for breakfast with this blender. I also like making fresh orange juice, just drop the peeled oranges in and in 10 seconds you have fresh OJ. The first time I did this I was expecting parts of the seed to be at the bottom of the glass but no, they were gone! This machine is that powerful!
And "Bruce, who describes himself as an avid cook states that this is "The best blender with an "attractive design that is "easy to use.
A commercial blender can really be a time saver when it comes to food preparation. The ease of operation make the Waring Commercial Blender line a necessity in any chef's kitchen.
For more information on Waring XTREME Blenders, contact us at KaTom!