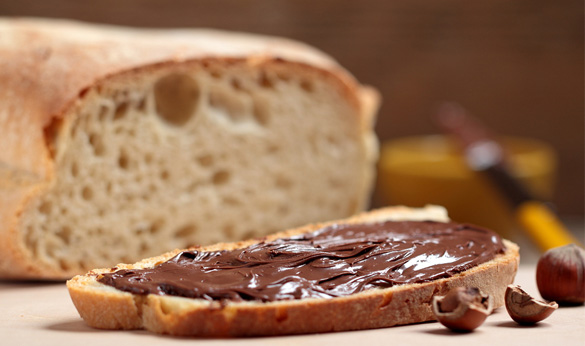 Nutella Stuffed French Toast
For a chocolate alternative to French toast, try these stuffed French toast sandwiches with Nutella and strawberries. These are warm, sweet, and have crisp exterior with a moist interior.
Nutella Stuffed French Toast
Makes: 2 Sandwiches
Ingredients:
4 slices of Texas toast bread
6 tbsp. Nutella
2 eggs
1 tsp. vanilla extract
1/2 tsp. ground cinnamon
2 tbsp. milk or half and half
1 tbsp. butter
Fresh whipped cream
5 strawberries, sliced thin
1 tbsp. powdered sugar
Directions:
On one slice of bread, evenly spread 3 tablespoons of Nutella. Put another piece of bread on top to create a Nutella sandwich. Repeat with the remaining bread. Heat a skillet or fry pan over medium heat, letting the tablespoon of butter melt.
Using a whisk, beat together the eggs, cinnamon, and vanilla. Dip both sides of a Nutella sandwich into the egg mixture, letting the excess drip off. Repeat the process with the remaining sandwich. Add the coated Nutella sandwich into the hot skillet. Cook on each side until golden brown, about 5 minutes.
Using a sharp kitchen knife, slice a French toast sandwich in half diagonally. Top the toast with strawberry slices and add a few dollops of fresh whipped cream to the plate. Using a sifter or a dredge, dust the French toast and strawberries with the powdered sugar.