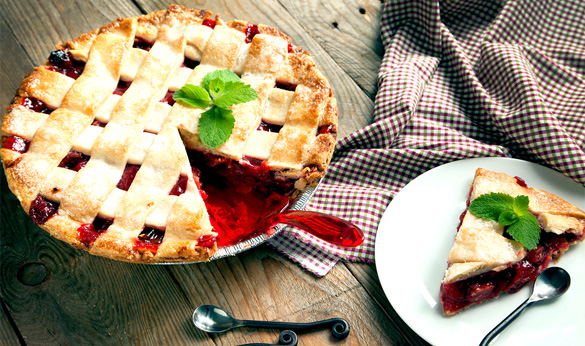 Baking In Season: A Mini Strawberry Rhubarb Pie Recipe
These mini strawberry rhubarb pies are a perfect early summer recipe that is balanced between sweet and tart. These mini pies are perfect for snacks or for a light after dinner dessert.
Mini Strawberry Rhubarb Pies
Ingredients:
1/2 cup white sugar
1/2 vanilla bean, scraped
1/4 cup all-purpose flour
1/2 lb. fresh rhubarb, diced fine
1 lb. strawberries, thinly sliced
1 egg yolk
1 tbsp. white sugar
Pie dough (homemade or store bought)
Directions:
Add the strawberries and rhubarb to a medium bowl. In a separate mixing bowl, add 1/2 cup of sugar. Scrape the contents of the 1/2 vanilla bean into the sugar. Add 1/4 cup of all-purpose flour to the vanilla sugar. Mix well.
Add the strawberries and rhubarb and coat in the mixture. Let set for 30 minutes.
Roll out the dough. Using a large biscuit cutter or cup, punch out round pieces of dough. Grease the inside of a muffin pan. Shape each round piece of dough into the muffin pan, creating mini pie shells. Sprinkle a little bit of sugar over the bottom of the mini pie crusts. Add the filling to the pie crusts. Cut slim strips from the remaining pie dough. Add the strips to the tops of the pies in a lattice design. With a basting brush, apply the egg yolk to the top of the pies. Sprinkle the pie tops with sugar. Bake at 350 degrees F for 20 minutes. Let cool before taking the pies out of the pan.