Baking In Season: A Mini Strawberry Rhubarb Pie Recipe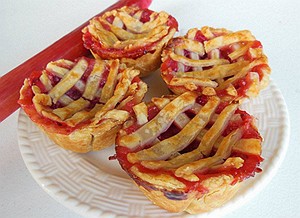 I'll give credit where it's due: the idea to make mini pies came from a pin I saw while on the KaTom Restaurant Supply Pinterest account. The picture itself felt like a kick in the shin (why didn't I think of that???) and left me excited to try the idea out. Most of the mini pies I saw were all apple though...something I just don't think is fair. Because it is in season (and also because my fella has never had it before) I decided to put together a recipe for Mini Strawberry Rhubarb Pies.
These little pies are darling and taste delicious, especially with ice cream. Next time there is a bake sale at your establishment or the need for a rustic yet eye pleasing dessert at your restaurant...well, you know what to do!
Mini Strawberry Rhubarb Pies
What You'll Need
1/2 cup white sugar
1/2 vanilla bean, scraped
¼ cup all-purpose flour
1/2 pound fresh rhubarb, diced fine
1 lb. strawberries, sliced
1 egg yolk
1 tablespoon white sugar
Your favorite pie dough recipe or store bought roll out pie dough

Instructions:
Finely chop ½ lb. of Rhubarb
Thinly slice 1 lb. of Strawberries
Add the strawberries and rhubarb to a medium bowl
In a
large mixing bowl
, add ½ cup of sugar
Scrape the contents of the ½ vanilla bean into the sugar
Add ¼ cup of all-purpose flour to the vanilla sugar
Mix well
Add the strawberries and rhubarb and coat in the sugar-flour-vanilla mixture
Let set for 30 minutes
Roll out the dough
Using a large biscuit cutter or cup, punch out round pieces of dough
Grease the inside of a muffin pan
Shape each round piece of dough into the
muffin pan
, creating mini pie shells
Sprinkle a little bit of sugar over the bottom of the mini pie crusts
Add the filling to the pie crusts
Cut slim strips from the remaining pie dough
Add the strips to the tops of the pies in a lattice design
With a
basting brush
, apply the egg yolk to the top of the pies
Sprinkle the pie tops with sugar
Bake in a 350 degree oven for 20 minutes
Let cool before taking the pies out of the pan
Serve and Enjoy
!
There really is nothing like a strawberry rhubarb pie when the ingredients are in season! My fiancé got to eat one of these little pies and, although he was a little wierded out by the way rhubarb looks before you cook it, he gobbled the pie up like a hungry puppy.
Be sure to make this while you can still get your hands on some rhubarb!
Until Next Week,
-
Heather ;)
Music used: "Remember The Name" by Jay Sinkie