Baking Away: Strawberry Cheesecake Cupcakes!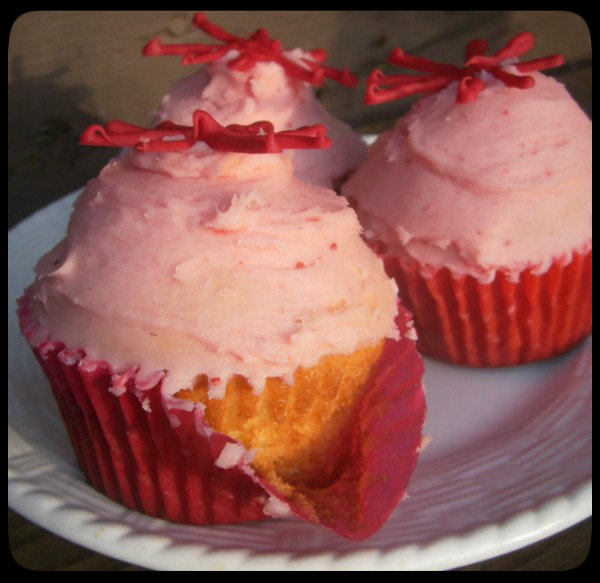 The local strawberry crop produced a million tiny strawberries this year instead of large ones. While many may complain about this I find the smaller strawberries have sweeter flavors, making them an even more enjoyable snack. A few people I know have dropped by to give us baskets of strawberries so I've literally had strawberries up to my ears! What better a time than to use them for cooking up something delicious?
Homemade strawberry frosting seemed to be the way to go as I kind of already had my heart set on cupcakes. These fantastic cupcakes are made with yogurt instead of butter and feature a sinful cheesecake center. After all, what goes better with strawberry than cheesecake?
Strawberry Cheesecake Cupcakes
What You'll Need For the Cupcakes:
1 cup all-purpose flour
1 cup cake flour
1 teaspoon baking soda
1 teaspoon salt
1 cup yogurt
3 eggs
1-1/4 cup sugar
1 cup vegetable oil
Cheesecake filling (Premade or: 4 oz. softened cream cheese, 3 tablespoons powdered sugar, 1 teaspoon vanilla)
Stand mixer or hand mixer, like my KitchenAid 5 speed Ultra Power hand mixer
What You'll Need For the Strawberry Frosting:
3-1/2 cups powdered sugar
2 sticks of butter, slightly cool & solid
Pinch of Kosher salt
3 tablespoons strawberry puree
½ teaspoon pure vanilla extract

Instructions:
1. In a large bowl, sift together the flours, baking soda, and the salt.
2. In another large bowl, combine the eggs, sugar, and oil. Mix well.
3. Add about ¼ of the dry ingredients to the wet ingredients, mix well.
4. Add about ¼ of the yogurt to the wet ingredients.
5. Repeat, mixing back and forth between the yogurt and the dry mix, until fully incorporated.
6. Using a disher or spoons, fill each cupcake paper 2/3 of the way full.
7. Bake at 350 for 8-10 minutes, or until the centers are cooked.
8. Cool the cupcakes.
9. Let's start making the icing! Add the butter and a pinch of salt to a large mixing bowl, mixing until the butter is fluffy.
10. Little by little, mix the powdered sugar into the butter.
11. Add the vanilla extract and strawberry puree to the bowl, mixing just until blended. DO NOT OVER MIX!
12. Use a cupcake corer or a sharp paring knife to "core each cooled cupcake.
13. Use a small spoon to fill each hole with cheesecake filling.
14. Spread a little more than a tablespoon of icing on each cupcake.
15. Serve and watch as they disappear!
I hope you enjoy this recipe as much as I did. My co-workers seemed to really like them! To make them extra pretty I added chocolate "star garnishes to the tops. You can do this easily by adding melted chocolate to a squeeze bottle dispenser, squeezing the design you want onto a tray lined with wax paper, and then adding the tray to the freezer for just a few minutes. Take the tray out and (with the help of a thin spatula) scoop up your garnishes!
Have a Sweet weekend!
-
Heather ;)
Music used: "Slumlord" by lotagblanco