Bacon Jalapeno Cheese Dip Recipe For SUPER BOWL!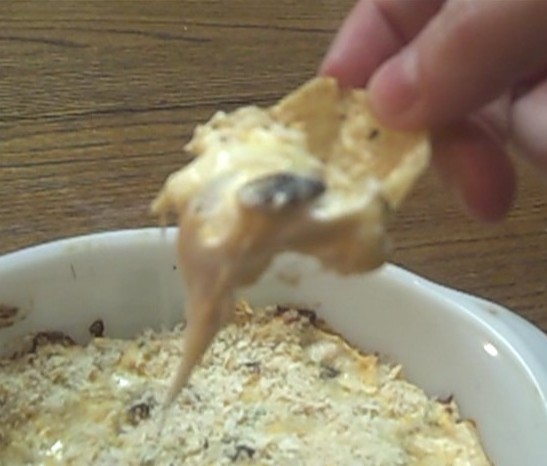 Put on your football jersey and game face; the Super Bowl is right around the corner! If you've attended any Super Bowl party before, you're bound to have seen traditional dishes like hot wings, potato chips, nachos, and loads of other tantalizing foods. These foods, although delicious, tend to be a little bit on the not-so-healthy side, something my fiance and I have been taking into consideration with our new diets. But can't you make your cake and eat it too, at least for this special event?
This week's recipe is for a creamy, cheesy, dip that you'll think is full of flavor and fat. Believe it or not, I've switched the ingredients to nothing but fat-free and light varieties, making it a little better for those who are watching their waist line. I kept the bacon in as well as a little bit of bacon grease; you have to splurge somewhere. If you desire even fewer calories, you can replace the bacon in this recipe with turkey bacon and the drippings with an oil of your choice.
All in all, this recipe is super easy to make and deceptively delicious. Whip this up as an extra dish and it'll be gone before the half time show starts!
Super Bowl Bacon Jalapeño Cheese Dip
What You'll Need
4 strips of cooked bacon, crumbled
1 tbsp bacon drippings
2 cups Fat Free shredded cheddar cheese
½ cup light sour cream
8 oz light or fat free cream cheese
¼ cup of skim or 2% milk
1 tsp white vinegar
2 jalapeños, de-seeded and chopped fine
Panko breadcrumbs
Instructions
Add everything but the Panko bread crumbs to a mixing bowl.

Mix until evenly combined.

Add the contents of the bowl to a medium baking dish.

Sprinkle Panko bread crumbs over the top of the dish until the cheese-bacon-jalapeño mix is covered.

Bake in a 350 degree oven for 30 minutes, or until bubbly and gooey.

Scoop and enjoy!
Quick, easy, and reminiscent of the ever popular jalapeño popper, this dip is a winner! I chose to scoop this dip with corn tortilla scoops but you can also use celery sticks or toasted baguette slices!
May the best team win!
-
Heather ;)