Baby Jack is KaTom's Superhero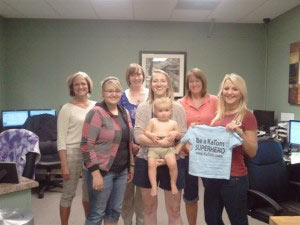 Friday, baby Jack paid a visit to the KaTom office to give us his stamp of approval on our work ethic and productivity since his last visit... I'm glad to say we passed inspection!
In addition to Jack's managerial role, he is also our official face of the KaTom Superhero campaign... don't you think we chose the perfect model?
We love having baby Jack visit the office, and as you can tell... baby Jack has learned at an early age it sure is good to be surround by a group of pretty women!