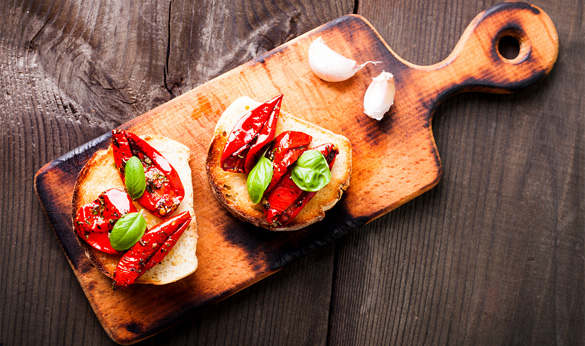 A Grilled Bruschetta Recipe: Perfect For Cook Outs
These grilled bruschetta are a great starting appetizer and take only about 10 minutes on the grill until they are ready. Grilled tomatoes, garlic, and balsamic vinegar, make them mildly sweet and just slightly smoky.
Grilled Bruschetta
Ingredients:
1/3 cup olive oil
2 cloves garlic, finely minced
3 Roma tomatoes
1/2 baguette of crusty bread, sliced diagonally
5 fresh basil leaves
1/2 tsp. Balsamic vinegar
Salt and pepper to taste
Directions:
Mix the garlic and olive oil and let rest for 10 minutes. Meanwhile, core the tomatoes using a tomato corer or paring knife and cut them lengthwise. Scrape the seeds from the tomatoes and set them aside.
Diagonally slice the baguette into 3/4 inch thick slices. Using the basting brush, coat the bread slices in the garlic oil mixture. Reserve the remaining garlic oil for later use.
Over a medium hot grill, add the tomatoes sliced side down. Cook the tomatoes for about 10 minutes or until well roasted. Using your kitchen knife, finely chop the basil leaves. Add the basil and balsamic vinegar to the garlic oil mixture. When the tomatoes are almost done, add the sliced bread (oiled side down) onto the grill. Once the bread has grill marks and the tomatoes are well roasted, remove them from the grill using tongs or a