Advantages of Cambro Food Pans

Cambro, a leading manufacturer of smallwares for more than 60 years, provides several lines of food pans that can be used to store, transport, and serve food in restaurants, hotels, and catering operations. Cambro food pans are made of plastics like polycarbonate and polyethylene that, in many applications, have several advantages over stainless steel food pans.
Types of Cambro Pans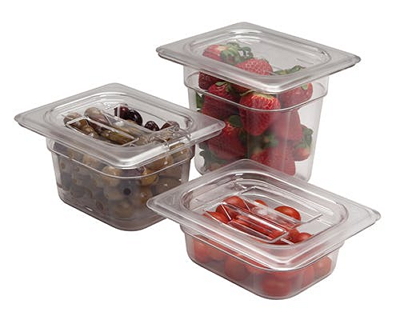 Camwear
All food pans from the Camwear line are made of polycarbonate, a durable material that is designed to resist bending, cracking, and denting during commercial use. Camwear food pans can be used in a temperature range of -40 to 210 degrees Fahrenheit, and are recommended for cold applications and those that require ambient heat. These polycarbonate food pans are available in black, white, and clear. Clear food pans give operators an unrestricted view into the pan to see what's being stored, while black and white pans are great for use in serving areas like salad bars.
Made of polycarbonate
Highly resistant to damage and bending
Rated for use at temperatures from -40 to 210 degrees F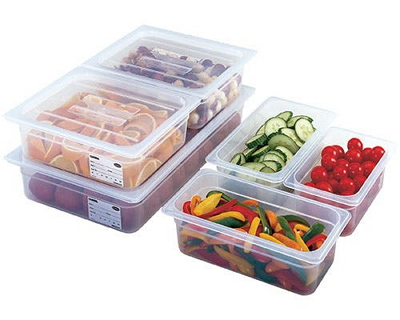 Translucent
Translucent food pans are made of polypropylene, another type of plastic approved for use in foodservice operations. This line of Cambro food pans is not as clear as those made from polycarbonate, but polypropylene still provides enough visibility to allow identification of the pan's content without removing the lid. These can be used in a temperature range of -40 to 160 degrees Fahrenheit, and are also recommended for use in cold or ambient applications. Polypropylene pans typically cost less than the alternatives, making these pans a cost-effective option.
Made of polypropylene
An economical food pan option
Rated for use in a temperature range of -40 to 160 degrees F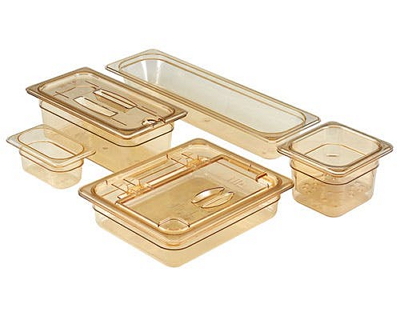 H-Pan
Cambro H-Pans, also called Cambro amber pans, are high-heat pans made from a material that withstands temperatures from -40 to 375 degrees Fahrenheit. H-Pans with handles are designed specifically for storing cooked foods in hot holding equipment, while those with no handles are best used for cooking, freezing, holding, and reheating. These are available in clear amber, which is identifiable and see through, and black, which is great for use on hot food bars. Unlike stainless steel pans, these high-heat pans are safe for use in the microwave, so they can also be used to steam vegetables.
Available in amber or black
Can be used for cold and hot applications
Rated for use in a temperature range of -40 to 375 degrees F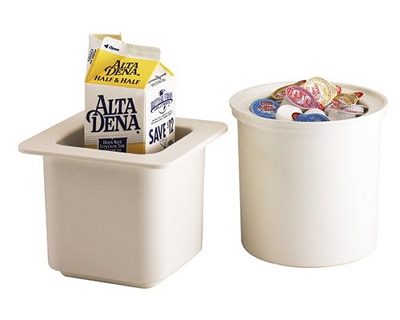 Coldfest
A departure from Cambro's traditional food pans, Coldfest pans are specifically designed to provide operators with a way to create cold food bars and buffets without using ice or electricity. Half- and third-size pans hold condiments, salad toppings, and other chilled foods at safe temperatures - below 41 degrees Fahrenheit - for as long as 8 hours, while sixth-size pans can hold product at that temperature for 6 hours. These pans are made of ABS plastic and have inner walls filled with a non-toxic eutectic gel. Unlike other Cambro food pans, they should not be used for storage or hot holding.
Made of ABS plastic
Can hold contents below 41 degrees F for 6-8 hours
Must be frozen for at least 8 hours prior to use
Advantages of Cambro Food Pans
Stainless steel is frequently used in foodservice equipment because of its rust resistance and durability. Those are important attributes in commercial kitchens where equipment comes into contact with moisture, food residue, and cleaning chemicals. Many manufacturers offer stainless steel food pans (also called hotel or steam table pans), but plastic food pans can offer a number of advantages over those metal equivalents.
Unlike Cambro pans, stainless steel food pans do not allow operators to easily see their contents. Although all food pans should be properly labeled, being able to identify products at a glance can save valuable time.
Stainless steel food pans sometimes warp at the edges, so the pans no longer sit flat. This lessens the efficiency of steam tables because heat can escape at the corners, which can result in burn injuries.
Plastic food pans won't get dented and dinged like their metal counterparts. That helps operators avoid creating potential bacterial harbors.
Cambro amber pans allow users to cook and retherm foods in microwaves, tasks for which stainless steel pans should not be used.
When it comes to keeping products cooled to food-safe temperatures, the engineers at Cambro have tested Camwear pans against stainless steel pans and found that over the course of four hours, food in both pan types did not exceed 38 degrees Fahrenheit. Because plastic food pans are often more affordable than metal pans, this means your foodservice operation can spend less for equal holding capacity.