Water Filters Buyer's Guide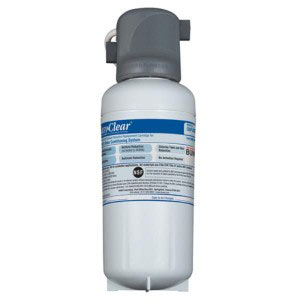 Water Filters:
Additional Information
When choosing a water filter for an appliance in your home or business, you need to know which water purification system will work best for you. Depending on the type of appliance that you need water filtered for, you will need a different type of filter. Water filtration capacity should also be considered carefully before purchasing a filter. This guide will attempt to break down the differences and similarities between each filter, and what they could be best used for.
Types of Water Filters
The water filters offered at KaTom come from premier manufacturers such as Cuno, Manitowoc, Ice-O-Matic, and Bunn-O-Matic. These top-of-the-line manufacturers offer either assembly and cartridge or cartridge only purchases. An assembly and cartridge purchase would be a definite for first time water filtration system buyers. When you purchase both the assembly and the cartridge, you will get the full system that you need to properly ensure your water is free from sediment, chlorine taste & odor, scale, and other pollutants that may be found in water. A cartridge only purchase is a cheaper option for a home or business who already has a water filter system and simply needs to replace the cartridge. Whichever you have to purchase, having a quality water treatment system is essential to the health and well-being of you, your employees, your customers and guests.
Suggested Uses for Water Filters
The type of water filter you need will depend mostly on what the filter is being used for and the amount of water passing through the filter. This section will highlight some of the most frequent uses for a water filter and the specifics you should look for if purchasing for that reason.
A water filter with a manifold system is an excellent choice for use in smaller ice machines. Manifold systems generally have copper tubing around 3-8" wide to allow 0-2400 lbs. of water to pass through. The filter cartridge part of the water filtration system includes both water inlet and outlet ports for respective connection with the inlet and outlet ports on the manifold system. A pivoting manifold cap typically encompasses and holds the filter cartridge perfectly in line with the manifold fittings and the connected water supply. The manifold cap's pivoting movement will cut off the water supply to allow removal of the cartridge from the manifold, with check valves at the inlet/outlet ports to ensure that water does not leak from the filtration system. When a cartridge is installed, the counter movement of the manifold cap draws the cam elements on the manifold and cartridge securely back together before water supply and treatment are reinstated.
Ice Machines (In Line)
An inline water filter is ideal when you have a pre-existing faucet that you would like a water treatment system hooked up to. Inline water filters connect directly to the water supply line and have a water capacity of 0-450 lbs. These type of water purification systems are frequently used on refrigerators, commercial ice machines, water fountains, and in schools. Unlike the manifold version, there are no 'nt parts to buy. If this water filter ever needs to be changed, a new unit must be purchased.
A water filter with an in-head valve is recommended for use with coffee and tea makers. An ideal water filter for coffee/tea brewers should have a 1500 - 54,000 gallon capacity per every 6 months, depending on the volume of customers served. A quality water filter for coffee and tea makers will remove nearly all particles, chlorine taste and odor, scale, and corrosion from water with minimal water flow restriction. Water filters for coffee and tea brewers have a maximum operating psi of 100 and a maximum operating temperature of 100 degrees Fahrenheit.
Fountain Beverage Dispensers
Like water filters designed for coffee and tea makers, a filter with an in-head valve is recommended for use in fountain beverage dispensers as well. An in-head valve filter simultaneously turns off and vents water, allowing you to change out the cartridge easily while minimizing the possibility of water leakage or contamination. These water purification systems feature from 1-3 carbonators for you to choose from, depending on the volume of water that will pass through the filter.
When purchasing a water filter for a steamer, an important factor to consider is the flow rate. The two Cuno water filtration systems offered for steamers are designed with a flow rate of either 0.5 gallons or 3.34 gallons. Both of these are guaranteed to reduce sediment, chlorine, and scale pollution, which results in better tasting water, food, and flavor. These commercial water filters include pressure gauges, inlet shut-off valves, and outlet check valves for easy installation and operation.
A in-head valve water filter is recommended for use in espresso machines. The water purifiers offered at KaTom come from either Cuno or Bunn-O-Matic and should be used for normal volume capacities. These filters all have a flow rate of 0.5 GPM and grain capacities from 700-1,100. These units have a maximum operating pressure of 125 psi and maximum temperature of 100 degrees Fahrenheit.
Combination Systems-Ice, Coffee, & Beverage
Water filters that can be used for multiple applications are perfect if your business requires more than one type of operation to be hooked up to a water filter. With capacities of 1.5, 5, or 10 gpm, these units are powerful enough to clean up to 99.99% of sediment, chlorine, scale, and corrosion, leaving pure tasting water every time. The 1.5 gpm unit is a valve-in-head type water treatment system that can stop water flow by twisting the cap. The 5 gpm unit features a manifold system with a handy shut-off valve, and the 10 gpm unit is equipped with a dual manifold system. All of these filters are designed to make installation and 'nt quick and sanitary.
A SS series inline water filtration system is recommended for use with water booster heaters. These units are purchased as a canister only, and the filter should be purchased separately. A Cuno 'nt filter should be used in this canister. These filters have a maximum operating psi of 300 and maximum operating temperature of 100 degrees Fahrenheit and are perfect for either hot or cold applications.
Hatco, a premier manufacturer of water booster heaters, asserts that water containing over 3.0 GPG will decrease the efficiency and reduce the operating life of the unit and that product failure caused by liming or sediment buildup is not covered under warranty, making a water filter an especially proactive investment for these units.
Capacity
| | | |
| --- | --- | --- |
| Product Name | Minimum Capacity | Maximum Capacity |
| | | |
| Ice Machine-Manifold System | 0 lbs | 2,400 lbs |
| Ice Machine-Inline System | 0 lbs | 450 lbs |
| Coffee/Tea Brewers | 1,500 gallons/6 months | 54,000 gallons/6 months |
| Fountain Beverage Dispensers | 14,000 gallon | 54,000 gallon |
| Steamers | 1,350 grain | 35,000 gallon |
| Espresso | 700 grain | 1,100 grain |
| Combination-Ice, Coffee, Beverage | 10,000 gallon | 54,000 gallon |