5 Products Bringing Computers into the Kitchen

Technology has progressed in leaps and bounds in the past few decades. Computers have moved from taking up a room to sitting in clunky boxes on desktops to fitting easily in our pockets, and as computers have shrunk, they have been integrated more seamlessly into our everyday lives. The restaurant industry is no exception.
Technology has been adapted for front-of-house jobs, where servers use computers and tablets for seating customers, taking orders, and processing payments. More recently, tablets have been developed for customer use and are available on the tabletops of many casual restaurant chains, allowing customers to request refills, place orders, and even pay their bills. Now, computers are making their way into commercial kitchen equipment. Below are five pieces of commercial kitchen equipment that integrate computer and touchscreen technologies in new and exciting ways.
Rancilio ONE Touch Top Milk XP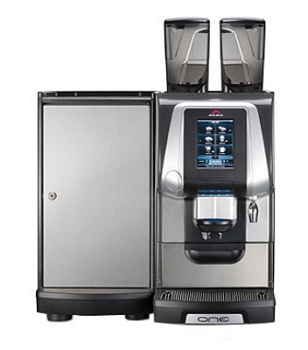 Espresso machines are high-tech pieces of equipment, with models ranging from simple steamers to superautomatic units that all but make the drinks for you. The Rancilio ONE Touch Top Milk dispenses and steams milk and can dispense powdered drinks to be mixed in with the hot milk to create hot chocolate, cappuccinos, and lattes. With a built-in milk fridge, two steamer heads, functional lights, and two boilers, this unit can dispense hot water, brew coffee, and steam milk simultaneously.
What makes the Rancilio ONE Touch Top Milk so impressive is its controls, which are contained in a 5.7-inch full-color touchscreen. The touchscreen allows you to program as many as 48 drink processes into the unit's internal computer. The screen can also be programmed to display images or play videos, which can be used for promotional or training purposes. That programmability allows the unit to double as a barista machine and a customer-facing unit, and can also help operators control costs by allowing them to tweak recipes and check consumption rates.
Carter-Hoffmann GardenChef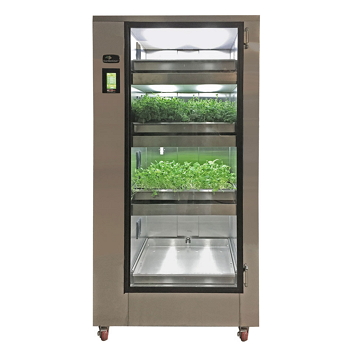 Touchscreens make controls intuitive and simple, which is of great benefit on units like the Carter-Hoffman GardenChef. This innovative piece of equipment allows chefs to grow microgreens in the kitchen, with built-in environmental controls. Temperature, air circulation, hours of light exposure, and watering frequency can all be adjusted easily for any or all of the one to eight growing zones in each unit.
In order to control all of these growing zones, the GardenChef has a touchscreen that allows chefs to use pre-programmed plant settings or create some of their own. The built-in computer can save settings for as many as 40 plants and lets the user alter the settings for each plant as needed. The computer also controls the water reservoir, which fills automatically for watering the plants. The integration of the computer helps ensure the plants are closely regulated for predictable growth, letting chefs harvest microgreens from their own kitchens, bringing new meaning to the idea of local food.
Alto-Shaam Blast Chillers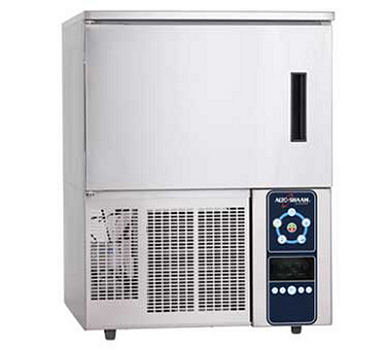 Blast chillers are most often added to commercial kitchen lineups to help users follow HACCP procedures, so it's a natural choice for added computer controls that can make that even easier. The Alto Shaam blast chiller features a touchscreen and a USB port, allowing you to easily change settings to meet critical temperature limits and record HACCP data as needed.
The touchscreen on the Alto Shaam blast chiller allows you to download and save recipes in addition to the 20 preset menu options that come with the unit. You can also upgrade software, download HACCP data, change between Fahrenheit and Celsius, set up defrost frequency, calibrate the probe, and set alarms all from the touchscreen. Having a touchscreen opens up a variety of settings and options that wouldn't be available with traditional controls without elaborate and complicated instructions.
Comark Temperature Data Logger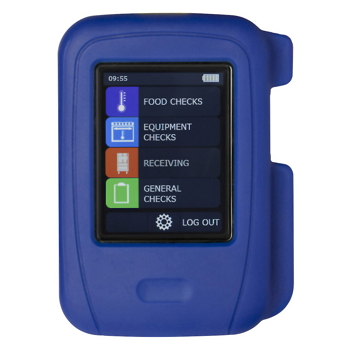 Technology has had a huge impact on how restaurants handle recordkeeping, which is especially important when it comes to following HACCP data recording guidelines. These help prevent foodborne illness, but having the proper information recorded can also help protect your business in case of a lawsuit. The Comark HT100 HACCP Touch has a resistive touchscreen, which makes it easy to operate to ensure proper recordkeeping.
This unit has a 3-inch, four-color touchscreen and a built-in computer that can record temperatures and tasks, and note what corrective actions are taken when critical control points are not met. The rechargeable battery typically lasts for 8 hours per charge. The onboard computer can store as many as 65,000 readings, and gives you the option to organize those readings into as many as 100 folders that can be listed by date or product. The unit can interface with Windows software and allows you to download data as an Excel spreadsheet or PDF. While computer products have a reputation for being fragile, this unit defies that expectation, with a water resistant and food-safe protective rubber boot.
Merrychef High-speed Convection Oven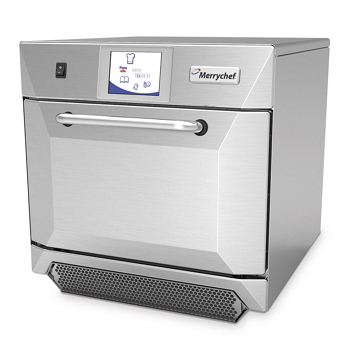 High-speed ovens combine multiple types of heat transfer to cook food quickly. The Merrychef E4 countertop high-speed oven takes convection, impingement, and microwave heat and combines it with the power of its EasyToUCH™ touchscreen control panel, which works with the built-in computer to provide the user with more options than traditional controls can offer.
The touchscreen on the Merrychef E4 is full-color and icon-driven for intuitive operation. The menu can be loaded via MenuConnect™ software and a memory stick, and the onboard computer can hold as many as 1,024 recipes, each of which can have as many as six stages. Each stage can include a different cook time and heating arrangement, and the screen displays user instructions as the oven goes through the process. A screensaver can be programmed to prevent damage to the display from long idle periods and the computer can perform self-diagnostics to help shorten service calls.