Caution Signs Buyer's Guide
Each year, slippery floors and accidental spills cause thousands of disabling injuries in businesses. On average, slip, trip, and fall accidents will cost U.S. business owners nearly $60,000 per lawsuit. Prevention of such accidents is key to save both money and your business' reputation. Caution signs are one way of helping to reduce the risks of slip, trip, and fall accidents in your business. At KaTom Restaurant Supply, we offer many different varieties of commercial safety cones to help make your business a safer place for you, your employees, and your customers.
Types of Caution Signs
Many different varieties of caution signs are available to meet your specific business needs. We offer two-sided, four-sided, multilingual, narrow multilingual, portable barricade, and popup style caution signs. These signs vary in size, color, and price.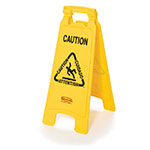 Two-sided caution signs stand somewhat like a triangle. These are open in the center with writing on both flat signs warning customers about a wet floor or spill. These are great, lightweight signs to help keep your business safe.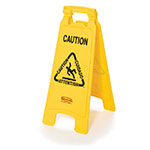 Four-sided safety signs stand in the same manner as the two-sided signs; however they are not open in the center. Four-sided signs give customers a 180 degree view of the words telling them to use caution. These signs are an excellent choice for portability and efficiency.
Multilingual caution signs will allow you to warn more customers of the danger of slipping and falling. These two-sided multilingual signs allow customers to see the warning of hazardous conditions in both English and another chosen language. We offer four different varieties of multilingual caution signs.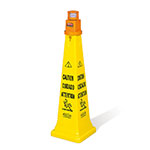 Another type of caution sign that we offer are portable barricade caution signs. These signs allow you to block customers from entering a certain area by setting up a perimeter area around the spill or leak. This type of sign is an excellent choice for effective communication with the 7-foot retractable barricade belt and four-sided multilingual faces. These signs are easily stacked and cleaned.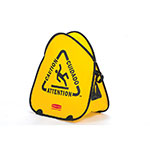 Pop-up safety signs are a cost-effective way to keep you, your employees, and your customers safe. These pop-up style signs feature an action style print to impersonate an individual falling which breaks the language barrier by being widely recognized. These signs are also excellent if storage space is an issue. Pop-up signs fold into a small carrying case and can be easily stored.
How to Prevent Slip, Trip, & Fall Accidents
Even with the proper use of caution signs, slip, trip, and fall accidents can still occur in a business. The following are a few ways to prevent such accidents:
Exterior Care
Be sure to keep the parking lot in good condition.

Keep sidewalks clean and free from obstruction.

Mark any changes or construction on exterior surfaces.

If steps are present, use a non-slip coating if possible.

Properly illuminate the exterior of your business at night.

Maintain proper condition of all handrails.
Interior Care
Be sure to properly illuminate all areas of your business.

Periodically check carpet to make sure it is free of rips and tears.

Place slip-resistant mats at all entrances of your business.

Mark any changes or spills.

Maintain emergency lighting.