Knives & Knife Sharpening: Rent VS Own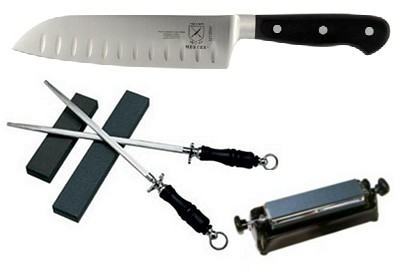 When you own a busy restaurant, whether it's a quick serve or sit down establishment, the kitchen's knives MUST be sharp enough to handle the work load. A dull knife isn't just hard to use, its use can more easily result in dangerous accidental slips.
Many businesses utilize "sharpening services to keep knives but don't realize that their sharpening service is really more like a rental service. The knives received are usually labeled something they aren't, for example: a worn down Chef knife being called a filet knife even though it isn't nearly as flexible as a filet knife should be.
These knife sharpening services are often put into place because business owners believe they will save money when in fact, this is not the truth. Owning your own knives and sharpening system has many benefits when compared to utilizing a knife rental service.
When Knives Are Dull There Is No Wait
Instead of waiting a full week for the next batch of sharpened knives, utilizing a knife sharpening system and a knife honer will have your knives safely sharp right when your staff needs them to be!
Better Quality, Sharper Edges
When your restaurant owns the knives instead of renting them, you can ensure quality by choosing the brand and types of knives you use. Ex: Instead of poorly made knives from a rental service, you can utilize quality knives that will stay sharper longer and hold their edge.
Save Time
Owning your own knives saves a lot of time when compared to using rental knives. You won't have a weekly knife sharpening service man out to chat with you once a week and your knives will stay sharper, saving on prep time.
Decrease In Food Cost
Better quality, sharper knives make prep work more precise. Your employees will be able to slice easier, reducing the amount of discarded tomato, bread waste, and even meat waste.
Longer Lasting Knives
When your employees are able to regularly hone the restaurant's knives with a honer, sharpening can be put off longer as the honing process helps to restore the edge. Less frequent sharpening results a longer knife blade life due to less metal being ground off.
Happier Employees
Other than having fewer knife related accidents, by adding high quality knives to your collection of kitchen utensils your employees will be able to enjoy the handles. Ergonomic handles will keep your employees hands from tiring as easily, reduce carpal tunnel fatigue, and are, in general, a much more comfortable handle choice.
Many are intimidated by the thought of sharpening their own knives when the process is, in fact, not difficult. Below is a video that shows you just how easy it can be to sharpen your knives with Mercer's Triple Diamond knife sharpener.
Do you have any questions? Leave us a question or comment on the blog, send us a tweet, hit up the KaTom Facebook wall, our Google+ account, or our Youtube channel!!!
Follow @KatomRS