About Redco InstaCut Choppers

From dicing onions for sautéing to slicing cucumbers for salad bars, prepping produce can be a tedious and time-consuming task that every kitchen must complete. Vollrath manual food choppers from the Redco InstaCut line are designed with operator convenience, efficiency, and consistency in mind. A Redco InstaCut tool can improve your kitchen's food prep process, but it is also easy to use and maintain.
Using Redco InstaCut Choppers
The Redco InstaCut series includes several equipment styles that provide chefs and line cooks with the versatility they need to chop, core, dice, slice, and wedge. Many of these styles include blade assemblies that can easily be removed, changed, and replaced, allowing you to perform multiple prep tasks with the same tool. Others are designed for a specific type of product or cut. These tools enhance the uniformity and appearance of the final product while allowing employees to complete prep work as much as three times faster than when it is done by hand.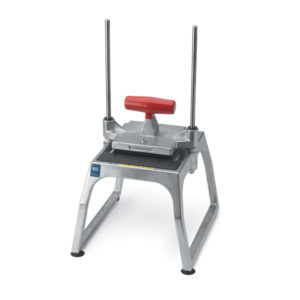 The InstaCut 3.5 is capable of coring, dicing, and wedging vegetables and fruits with the following blade assemblies available: 1⁄4-, 3⁄8-, or 1⁄2-inch dice; wedges for as many as 12 sections; and cores for six or eight sections. It comes in tabletop and wall-mounted models. It is recommended for use with apples, celery, onions, potatoes, pears, peppers, and tomatoes. The InstaCut 5.0 features a cutting area that measures five inches square to accommodate large fruits and vegetables. The available blade assemblies can dice vegetables into 1⁄4-, 3⁄8-, and 1⁄2-inch pieces; create 1⁄4-, 3⁄8-, and 1⁄2-inch-thick slices; wedge ingredients into four, six, eight, 10, and 12 sections; or core fruit into six or eight sections. It is recommended for the same produce items as the 3.5, as well as lemons, limes, and oranges.
Some restaurants need a manual food chopper dedicated to a particular food or cut, and Vollrath Redco offers a number of these tools as well. The Wedgemaster is available to wedge fruit, like lemons and limes, and vegetables, like tomatoes and potatoes, into six or eight sections. Bars and restaurants offering a high volume of lemons and limes in drinks or as a garnish on meals can benefit from using this wedging tool, which will help employees produce fruit wedges in consistent shapes and sizes. In a similar vein, the Redco InstaSlice can uniformly slice large tomatoes into 3⁄16-, 7⁄32-, 1⁄4-, and 3⁄8-inch-thick slices, with scalloped and straight blade styles available. The Tomato Pro has fewer blade options, but can also slice strawberries and mushrooms.
Kitchens slicing firm vegetables and fruit can benefit from the Onion King, which is recommended for potatoes, squash, lemons, limes, oranges, and, of course, onions. Vollrath suggests using it with onions that have a maximum diameter of 3 inches. To create the popular blooming onion appetizer, Vollrath offers the InstaBloom onion cutter, which can be easily stored and used on the countertop when needed.
Specialty slicers are also available for fruit and cheese. The Redco Fruit Slicer cuts fruits like pineapple and melons into 1⁄4-inch-thick slices, which can provide much-needed consistency for buffets and other high-volume applications. It features a 5-inch-square cutting area to accommodate large cuts of fruit that need to be sliced. The CubeKing can cube cheese, and slice it into sticks and square or rectangular blocks, with the capacity for cutting through mozzarella, cheddar, and more.
For the ultimate in versatility, consider adding the King Kutter food and vegetable cutter, which will allow prep staff to crinkle-cut, grate, julienne, shred, and string with efficiency. Because it is manually operated and the cones are easily changed, employees will be able to quickly accomplish different prep tasks without worrying about delays that can be caused by the breakdown of electric equipment.
Caring for Redco InstaCut Choppers
Most InstaCut choppers have received NSF certification, which means they meet specific requirements for sanitation and cleanability. Blade assemblies can be purchased separately to ensure you always have the one you need available, but to extend the life of your blades, ensure that they are cleaned daily and spritzed with water after every use. If acidic juices and residue from fruit and vegetables are allowed to sit on the blades, they will corrode the metal and force you to replace the blades more frequently. Assemblies should be cleaned by hand with hot water and not put through a dishwasher, then allowed to air dry. Guide rods can be lubricated with Petrol Gel or mineral oil, but never with cooking oil.