Star Griddles & Double Sided Grills

A Star griddle is certainly a fine product to invest in! Not only are Star griddles very energy efficient, they have remarkably quick recovery time and are made in the USA! These griddles come in the Ultra Max and Star Max varieties, depending on your business's cooking load.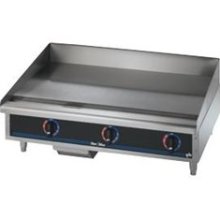 Star-Max griddles are a perfect choice for medium duty needs. The griddle plate on Star-Max griddles tends to be ¾ inch thick and come in chrome or steel. Steel griddle plates are a great choice for those on a budget but keep in mind that you cannot clean them as well as a chrome griddle plate. Chrome griddle plates provide an ultra smooth surface, better heat retention, won't transfer other flavors or carbon burn off to foods, and are easy enough to clean that they can reach the original clean you strive for.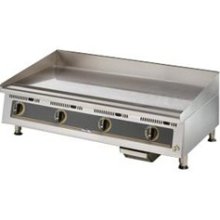 Ultra-Max griddles are the ideal choice for heavy duty use. These griddles also come with your choice of steel or chrome griddle plates but there is one big difference in the Ultra Max's design; the griddle plates are 1 inch thick instead of ¾ inch thick. This provides the user with a more evenly heated surface to cook on with fewer hot spots. Ultra-Max griddles are also designed ergonomically, making them a better fit for your chefs.
Both Ultra-Max and Star-Max griddles come with your choices of snap action, throttling, or manual thermostats. A snap action thermostat will automatically change the temperature when you do. A throttling thermostat is a great choice for those cooks who are just learning. A manual thermostat is great for experienced chefs who wish to control the heat themselves.
A word of warning: Chrome grills don't clean the same way griddles with steel griddle plates do. DO NOT clean chrome griddle plates with grill bricks or grill screens. These cut into the chrome surface which results in food sticking. All you need to clean the chrome griddle plates on your griddles are microfiber clothes, a high quality grill scraper, and soapy water.
Did you know that Star sells more sandwich grills than any other brand? Now you do! These fine pieces of toasting equipment come in a couple of different types. The right Star sandwich grills for you depends on your budget, the level of use you plan on putting it through, and more. Star makes Grill Express and Pro Max 2 sided grills.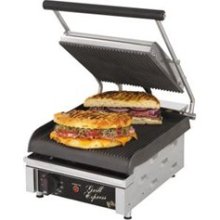 If you're planning on using your 2 sided grill minimally and are on a strict budget, choose Grill Express grills. These grills feature cast iron grates for desirable heat retention, are more affordably priced than the Pro Max line, and can reach temperatures of 175 to 450 degrees Fahrenheit. You can choose from both smooth and grooved plates, depending on your menu items.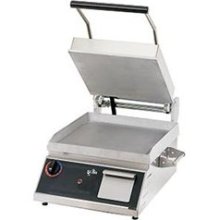 If your restaurant is planning to sell more than 50 sandwiches an hour, we would advise you to look into the Pro Max grill. Whereas regular sandwich grills have problems with their bearings after about 65,000 openings that are irreplaceable, the Pro Max 2 sided grill has no such difficulties. The Pro Max 2 sided grill features an innovative design that allows it to open over a MILLION TIMES without any bearing problems. Not surprisingly, this design won the Pro Max sandwich grill an award at NAFEM. Although it's priced a fraction more than the Grill Express sandwich grills, the Pro Max alone sells more than any other sandwich grill in the world. The grill plates on the Pro Max can also come in smooth or grooved and can be made of either cast iron or easy to clean aluminum. The Pro Max can reach higher temperatures than the Grill Express as well, reaching from 175 to 550 degrees Fahrenheit.
Seasoning Your Star Sandwich Grill or Griddle
Much like a new cast iron skillet, Star sandwich grills and griddles must be seasoned before use AND after cleaning. Sounds easy enough, but we've had a common problem brought to our attention.
Many people in the food service industry have chosen to use products like PAM to season their grill or griddle plates. WE DO NOT ADVISE THIS! PAM, believe it or not, includes glucose. Glucose, as you know, is basically sugar. When you add sugar to a hot grill/griddle (or if you don't clean your unit on a regular basis) this creates carbonization on your plates. Carbonization reduces the heating effectiveness of your unit, resulting in more energy used to cook the sandwich. Carbon also makes it easier for cooking foods to stick to the plate surface.
WHEN YOU SEASON YOUR GRILL OR GRIDDLE PLATES USE A GOOD QUALITY COOKING OIL! This will save you heartache in the end.