Which Type of Frozen Treat Machine Do You Need?

Adding a commercial ice cream maker to your business can help you serve popular and profitable frozen treats, but as with any commercial equipment, it's important to know which type of machine you should purchase. Frozen dessert makers are available in a variety of sizes and capacities, from countertop models with single 4-quart hoppers to floor models capable of storing 30 quarts of product at a time. However, you'll also need to know if your new machine should have a self-contained or remote condenser.
A self-contained machine may be referred to as "plug-and-play" because it contains each component of the refrigeration system, so it requires very little in the way of installation beyond being plugged in. Some manufacturers offer high-volume units that are available with remote condensers, which are not housed within the unit and must be installed in a separate location, most often on the building's roof. Below, you can learn more about the differences between remote and self-contained frozen treat machines to decide which is best for your business.
Self-contained or Remote?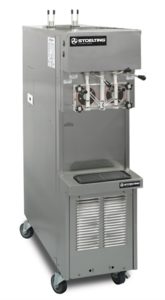 Because they are generally less expensive than equipment that relies on remote systems, the majority of frozen dessert makers are self-contained units, whether they are small countertop machines or large floor models. However, this skew in popularity is also because the majority of operations do not require high-capacity units capable of producing several gallons of product per hour – and that's what remote units are designed to do. Most restaurant and dessert shop operators can find self-contained units to meet their needs, but remote frozen treat machines may be necessary for large-scale operations. This includes recreational facilities like golf courses, theme parks and stadiums, universities and institutions, and high-volume fast-food locations, as well as businesses centered around frozen treats. With the booming growth in recent years of such ice cream parlors and frozen yogurt shops, remote units have become increasingly popular.
Although self-contained units may be water-cooled or air-cooled, remote frozen treat machines are only available with air-cooled condensers. If you are preparing to install a commercial ice cream maker in an already-crowded food prep area and can spare the additional expenses of a remote unit, there may be an additional benefit of a remote air-cooled model worth considering: By taking the condenser out of the equipment, the heat and noise it would otherwise produce is also removed.
Remote Units
Best for:
High-volume operations (fast food, theme parks, ice cream and frozen yogurt shops, etc.)
Removing heat and noise from operation from prep areas
Cons:
Limited model options
More expensive to install and maintain
Self-Contained Units
Best for:
Most applications and concepts
Operations with limited available space
Cons:
Lower production capacities
Expel heat that must be removed by HVAC systems
Installing a Remote Air-cooled Frozen Treat Machine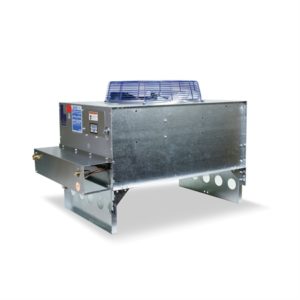 Stoelting, a Vollrath company, manufactures a few different remote air-cooled frozen treat machines. Before you purchase one of these units, you should consider some of the following requirements for their installation:
You can install the remote condenser indoors or outdoors, but it must be in an environment with ambient temperatures that do not exceed 120 degrees Fahrenheit. Installing the condenser in an environment hotter than this will negatively impact its production capacity and possibly damage the unit if it becomes overworked.
Remote condensers require discharge and insulated liquid lines. The maximum length of lines available from Stoelting and Vollrath is 50 feet, so the condenser cannot be located further away from the unit than that. Longer lines may be available from others sources, but you should verify they will be compatible with your unit before purchasing.
One remote condenser and precharged line set is required per freezer cylinder.
The installation of a remote system should be overseen by a professional.