Jet Tech: Striving for Excellence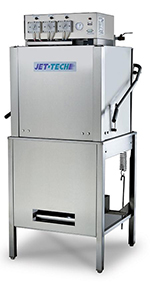 Jet Tech, a leading manufacturer of the most complete and energy-efficient product range of "niche" ware-washing equipment for the commercial kitchen, is ideal for an professional who strives to achieve absolute perfection, demands quality, and actively seeks out exceptional values. Jet Tech prides itself in utilizing advanced technology in all of their high-temp ware washers, which saves both time and expense for their customers. Robotic processes are used in all production facilities, ensuring consist quality products.
There are several reasons that Jet Tech can be considered one of the most dependable and affordable ware washers in the industry, all of which will be discussed in the following paragraphs. A major benefit of purchasing a Jet Tech ware washer is the free startup offer. With each Jet Tech purchase, customers must contact the office to validate their warranty. At this time, the company will send out a tech to confirm that the appliance is properly installed. This provides peace of mind to customers, and the company.
Jet Tech ware washers tend to consume less water than traditional ware washers, which is a great way to help "green" your business or organization. For example, the F-18DP model uses only .79gallons of water per cycle in comparison to other competing models. This amazing water usage reduction will have a major impact on your utility bills as well.
Another huge factor in savings is the low amperage draw offered by Jet Tech models. Amperage draw is another factor than can greatly affect the energy consumption and utility cost of your commercial ware washer. When combined with the low water consumption, a Jet Tech ware washer could save $300 - $500 each year in operation costs. This is great for the environment, as well as your pocket!
Jet Tech is continually working to offer more efficient ware washers, and are proud to offer the only counter top high temp built in booster machine. This product is ideal for day cares or other areas where children are present. The very design of this model ensures that children cannot be injured by the door of the washer or the shear heat emitted from the unit.
Jet Tech understands the growing environmental concerns, as well as concerns brought about by today's slowing economy. With this in mind, the company continually strives to present the industry's most innovative ideas and technologies to you, the customer.