Benefits of Groen Electronic Controls

Groen steam kettles and braising pans are valued in commercial kitchens for their versatility when it comes to cooking in large batches. Steam jacketed kettles offer even heating around the bottoms and sides of the kettles, reducing food waste and labor requirements by allowing food to cook with little supervision and without constant stirring. Braising pans are also called tilt skillets because they are essentially giant versions of that type of cookware that enable you to roast, boil, pan fry, grill, sauté, and steam all in one piece of equipment. Adding electronic controls to these units has allowed Groen to make them even more consistent, reliable, and versatile.
Electronic Control Options
Electronic controls on Groen steam kettles and braising pans come in two configurations: Classic and Advanced. The controls on your equipment will determine which features your model has, so consider how you plan to use your steam kettle or braising pan when deciding which controls will work best for you.
Classic Controls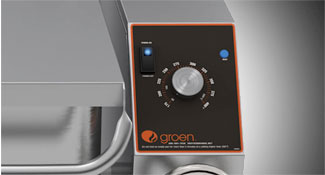 Classic controls are the most economical choice of electronic controls available from Groen. This option includes only a power switch and a knob for setting the temperature, making it simple to use with no programming or setup required. The power switch is lighted, making it easy to tell at a glance whether the unit is in use. The knob allows you to select a precise temperature on the braising pan or one of the 10 heat levels on a steam kettle to help ensure consistency between batches. The controls also have an improved location over the older controls, still on the right side of the steam kettle or braising pan, but moved forward and tilted up to make them easy to see and convenient to reach. An indicator light on the panel alerts the user when the unit is heating.
Advanced Controls
Advanced electronic controls include a lighted power switch, knob, four buttons, and a digital readout, which come together to offer quite a few more options than the classic controls. Instead of aligning the knob to a corresponding number, the digital screen displays the change in heat level or temperature setting as the knob is turned. These controls also allow you to set up low and high temperature presets for dishes you cook often. A digital 1-minute to 10-hour timer is included to make monitoring recipes easier and ensure consistency, with an audible alarm to get your attention in a busy kitchen.
Digital Durability
These digital controls are made to be durable to withstand the drips and splatters that often occur in a commercial kitchen. To help ensure they are resistant to water, Groen's electronic controls underwent rigorous testing to achieve IPX6 certification.
International Protection (IP) codes are used for rating products on their abilities to prevent the ingress of solids and liquids, and withstand impacts. Groen electronic controls have a housing with a designation of IPX6, which means they are protected against everything from drips and splashes to powerful water jets. This water-resistant build means you can wash your braising pan or steam kettle with a wall-mounted hose to ensure food safety and sanitation without worrying about damaging the controls. This durability reduces downtime and repair bills.
Consistency is Key
Consistency is one of the most important things to strive for in a restaurant, but with multiple prep cooks and chefs alternating between shifts, it can be difficult to achieve the same results time after time, even with a detailed recipe. With digital controls, achieving the same results every time is made simple since kitchen staff can select precise temperatures each time.
Advanced controls offer additional tools for consistency, including a timer and easy push-button presets. The timer has an audible alarm, which helps prevent product loss from overcooking and lets chefs focus on other tasks. The programmable low- and high-temp buttons make it simple to start recipes quickly with the assurance that the temperature will be correct every time. These buttons also help when providing instruction to less experienced operators and make training simple.
How Waterproof are Your Gadgets?. CNET. Accessed 7/26/17.