Undercounter & Worktop Refrigerators, Chef Bases, & Prep Tables

Finding the right type of commercial refrigeration for your kitchen can greatly improve your workflow, increase productivity, and help make sure perishable products and ingredients are properly stored during the work day. If your kitchen needs additional prep space, you'll have to decide if an undercounter refrigerator, worktop refrigerator, chef base, or prep table is the right fit.
Undercounter Refrigerators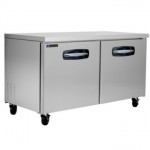 Ideal for: Adding refrigeration to an existing layout.
If you're working with a small kitchen or an area with little available space in the layout, you'll want to consider an undercounter refrigerator. As long as you make sure to measure your countertop height and order an appropriately sized unit, an undercounter refrigerator will fit neatly under the existing countertop in your kitchen. This type of refrigeration makes it easy for kitchens to keep cold products near fry stations and other prep areas or for a café or restaurant to keep bottled drinks, milk, and ingredients in a convenient place for bartenders, baristas, or servers. For more information about adding one of these units to your kitchen, consult our undercounter refrigerator buyers' guide.
Worktop Refrigerators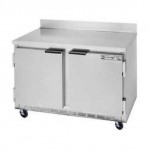 Ideal for: Adding refrigerated prep areas.
If you want to add light prep stations to your kitchen, a worktop refrigerator provides a stainless steel counter mounted on top of a refrigeration unit. This refrigeration option creates more prep space, making it easy for staff to retrieve refrigerated items like cheese or vegetables that have been conveniently and properly stored. This worktop counter is easily identified by its marine edge, and many come with a backsplash. Use our worktop refrigerators buyers' guide to see which one would work best in your kitchen.
Chef Base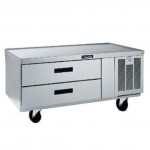 Ideal for: Adding convenient refrigeration and equipment storage for chefs.
If you need additional space for prep work that involves equipment like griddles or fryers, a refrigerated chef base would work best in your kitchen. These include a stainless steel worktop, complete with a marine edge to contain spills, attached to a base that includes refrigerated drawers capable of holding full-size food pans. This refrigeration solution makes it easy to keep cold items properly stored and conveniently at hand for cooks who need them. Our chef bases buyers' guide offers more information about this refrigeration type.
Prep Tables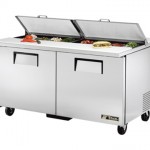 Ideal for: Adding prep space for sandwiches, salads, or pizzas.
Prep tables are must-haves for restaurants that assemble entrée items and are separated into two types: pizza prep tables and deli prep tables, for salads and sandwiches. Both types have a removable cutting board, as well as cold storage on top for immediately-accessible ingredients and cold storage in the base for keeping additional ingredients. However, pizza prep tables have a wider work surface to allow large pizzas to slide from one end of the table to the other. To learn more about how this type of refrigeration will fit into your kitchen, check out our prep tables buyers' guide.