Cigarette Waste Receptacles Buyer's Guide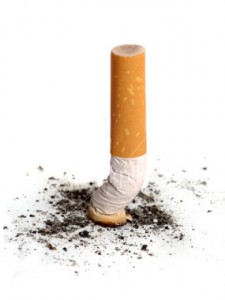 As any business owner knows, a neat appearance will help your business continue to grow and help maintain a respectable reputation. One way to maintain the appearance of your business is to eliminate cigarette butt litter. Often times, people will simply throw cigarette butts on the ground if there is not a convenient receptacle near the smoking area or business entrance. In time, these butts can create a major litter problem for your business. Besides being unsightly, a collection of cigarette butts also creates a fire risk. However, there is a an attractive and affordable alternative to cigarette litter.
With the use of a receptacle, the air supply to a lit cigarette is cut off which extinguishes the flame, offering your business round the clock fire protection. Receptacles also help to eliminate health risks and the smoke smell associated with smoking areas.
Cigarette waste receptacles
are a staple in many businesses from convenience stores to Fortune 500 companies. At KaTom, we are pleased to offer many different varieties of cigarette receptacles to meet any need, including waste collection types, smoking urns, ash/trash containers, groundskeeper tuscan style, infinity receptacles, and wall mounted varieties. This guide will highlight these receptacles to help make your purchasing decision a little easier.
Styles of Smoking Management Receptacles
There are many different varieties of available to fit in with any business type or decor. This section breaks down this information to minimize the amount of time you spend searching for the perfect cigarette waste receptacle for your business.
The waste collection style of smoking management receptacle is an attractive, molded plastic solution to the cigarette butt litter problem. This style features a restricted opening that prevents the oxygen flow to lit cigarettes, which quickly extinguishes the flame while keeping it out of the view of the public. The exterior of this unit won't rust and resists fading even when placed in direct sunlight. The easy to disassemble two-piece design makes cleaning quick and easy. This type of receptacle is an affordable, 36" option.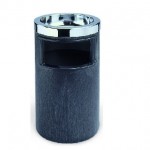 Smoking urns are another style of cigarette butt receptacles available at an inexpensive price. Smoking urns are available in either floor models or wall mounted varieties. Smoking urns are recessed on the top to allow sand or other materials to be placed into the area for butts to be distinguished in. Floor model smoking receptacles are available with either a chrome top or chrome top with a metal interior liner. Floor models of this unit feature an opening on the side for "Class A" waste collection. These units are available in black.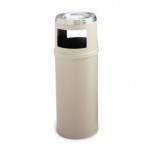 Ash/trash containers are another style of smoking management receptacle available for your business. This type of receptacle features an ashtray that can be either permanently attached or left unattached for easy emptying. The exterior construction is dent and scratch resistant, which will extend the longevity of this unit. There are doors on both sides of the unit for easy and convenient trash disposal. This type of unit is available in either standard beige, stainless steel, or metallic finishes. A half-round version of this receptacle is also available to fit securely against any wall.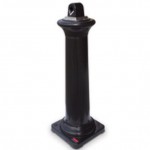 The Groundskeeper Tuscan style smoking receptacle features a slightly more high-end appearance while still remaining practical and affordable. This model features a slide out ashtray that can be cleaned quickly. This unit has a heavy steel base plate ensure that this receptacle stays in place regardless of weather or abuse. A strong, weather resistant exterior minimizes fading. The Groundskeeper Tuscan style cigarette receptacle is available in either black or sandstone color varieties.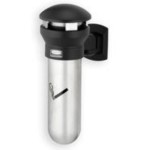 The sophisticated and stylish Infinity model smoking receptacles are an excellent choice for any business that wants a classy look while staying affordable. These units are available in base-mount, wall-mount, traditional, or ultra-high capacity styles. The base-mount type unit has a heavy base to eliminate the risk of theft and increase stability. This unit features a domed top for resistance against all weather conditions. The base-mount model holds up to 1,500 cigarette butts and can be cleaned easily when maintenance is necessary. The wall-mounted unit has all of the same features mentioned above; however this type receptacle holds up to 700 butts. The traditional, stand-up style unit is excellent for high-traffic areas because of the amount of cigarette butts it is capable of holding. This unit holds up to 5,000 butts. The ultra-high capacity version of the Infinity receptacle is excellent for high-traffic areas, holding up to 8,000 cigarettes. The Infinity is available in either all black, black and stainless steel, bronze, or pewter color options.