Certification Marks for Food Service Products
In browsing KaTom's virtual shelves of restaurant equipment, you're likely to come upon a number of certification marks from various organizations that test the commercial kitchen supplies we sell. You may be unfamiliar with some or maybe you've seen them before but were never sure what they mean. That's why we provide this list of the food service certifications you'll probably find on our products, beginning with the two most common.
Jump to:
NSF International Certification of Restaurant Equipment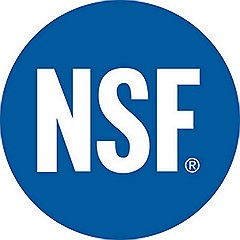 Started as a project of the School of Public Health at the University of Michigan, the National Sanitation Foundation quickly grew beyond that name into a worldwide sanitation and food safety laboratory. The NSF International1 mark today means that the restaurant equipment in question is designed and constructed with an eye to food safety.
NSF Certification Requires Rigorous Annual Testing
The effort to build sanitary pieces starts with certified materials and sanitary conditions, with NSF auditors visiting the manufacturing facilities of vendors hoping to achieve the mark. The product itself is evaluated and tested to ensure it meets NSF's exacting standards that apply to everything from commercial refrigerators to meat slicers. Additionally, each of those inspections is conducted annually for as long as the company wants the certification.
The NSF International mark is hugely important in food service because it indicates to the operator and the consumer that the equipment being used has been stringently tested to assure it best protects food quality and safety. The rules in most locales do not require that all restaurant equipment be NSF certified, but the mark virtually guarantees the product will be in compliance with health department rules. Stocking your kitchen with approved pieces will also boost your overall inspection scores.
NSF International Marks and Standards
For some products, the circular NSF mark will have the letter "C" on the left side and "US" on its right. That simply means the item meets both U.S. and Canadian requirements. You may also see a designation that a product meets NSF/ANSI, which adds rules from the American National Standards Institute to the testing. ANSI works closely with NSF to develop its food safety standards and complete testing to those.
What UL Listing Means for Restaurant Equipment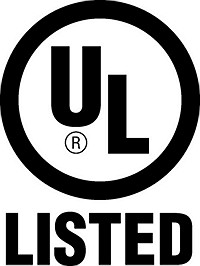 If you think of NSF International classification as protection for your customers, then the mark of Underwriters Laboratories (UL)2 indicates safety for those who work in your commercial kitchen. The Illinois-based testing agency assures that the equipment that gets its stamp operates safely. There is also a sanitation classification that offers similar assurances about food safety as the NSF mark. Products may be indicated as "UL Listed" or "Classified UL."
UL-Listed Equipment Ensures Operator Safety
The UL, which now serves customers in more than 100 countries, has become the authority on product safety. Its engineers test for things like soundness of design, safety of electrical components, and structural integrity of products for which UL listing is sought.
Other UL Marks for Restaurant Equipment
UL Food Service The UL Sanitation classification tests pieces meant for the commercial kitchen by environmental and public health regulations. Like NSF, UL conducts ongoing tests of restaurant equipment to ensure it meets the agency's safety standards.


C UL US ListedThis mark indicates a product meets the testing standards for UL listing, as well as applicable regulations on that type of product in the United States and Canada. You may also find versions on our site that just have the C, which indicates UL and Canadian standards are met.


UL Gas-Fired As you may guess, this UL certification is given only to equipment that generates heat or energy by burning gas. Products are tested for a number of potential hazards that could involve either their gas or electric systems, or both. The mark tells you the product complies with UL listing standards, as well as those from American National Standards Institute (ANSI) and the Canadian Standards Association (CSA). You may see versions of this mark with a C on the left and/or a US on the right. Those indicate the product meets U.S. and Canadian national standards.


UL EPH Recognizes products certified to meet environmental and public health standards. If the UL EPH logo shows the word "Classified" above the UL mark, it indicates that the product complies with ANSI/NSF standards, in addition to other applicable codes. If the word "Listed" is written below the UL circle, the product meets the UL's published standards for environmental safety and public health.
CSA Certification and the Food Service Industry

As noted, CSA stands for the Canadian Standards Association3. The group provides standards and testing for products manufactured and/or marketed in Canada. Its procedures and mandates have been endorsed by American enforcement agencies. Like UL, there are multiple kinds of approval given by CSA, each denoting that a product has met standards certifying its performance in any applicable subcategories.
Other CSA Marks for Food Service Products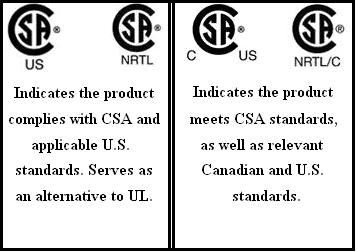 What the CE Mark Means for Food Service Products

The CE4 mark is somewhat rare on KaTom product pages, but can be found on some, particularly those manufactured in Europe and electrical equipment classified as "import," which means it can work on electrical systems outside the U.S. The sign is mandatory for products sold in the European Economic Area. It indicates the product conforms with certain manufacturing and design safety requirements. CE is similar to UL except it's more of a declaration by the manufacturer that the product meets the relevant rules, rather than being the mark of independent testing.
What ENERGY STAR Means on Restaurant Equipment

Most consumers have come to recognize the mark of ENERGY STAR5, an agency supported by the U.S. Environmental Protection Agency and Department of Energy, on residential products. The organization also offers its certification to commercial pieces, still indicating the potential for energy savings below the baseline for that type of equipment. Participation in ENERGY STAR is voluntary for manufacturers and products submitted for certification must go through testing before the seal is given.
What ETL Listed Means for Food Service Products

ETL6, or Edison Testing Laboratory, specializes in testing electrical equipment for safety based on standards provided by many of the groups we've already covered, including UL, ANSI, and CSA, and more. According to the website for Intertek, the group that operates the facilities, there are more than 80,000 ETL listed products on sale in North America and most of the standards agencies accept the mark as proof of product safety.

The ETL Sanitation mark indicates a product meets applicable requirements for food safety. To achieve it, the item must pass tests by ANSI/NSF standards and the certification shows production conforms to compliance measures for ensuring a food-safe product. Facilities are inspected on a regular basis to verify those standards continue to be met.
In addition to the standard ETL Listed and mark, KaTom customers may see ETL's stamp with the designation "US" on the right or "C" on the left, indicating approval by applicable U.S. or Canadian regulations. Additionally, products may have both the "C" and "US" indicators.
What AHRI Certification Means on Restaurant Equipment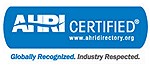 The Air-Conditioning, Heating, & Refrigeration Institute (AHRI)7 provides testing for commercial refrigeration and kitchen ventilation equipment, among other things. The agency checks each product's performance in its facilities against the manufacturer's published claims to ensure it is living up to what the consumer expects. Unlike other marks on this list, AHRI certification isn't so much for regulators as it is for the customer. Finding the agency's mark on a product means the buyer can trust that it will perform to the levels on spec sheets and other product information.
What the FDA Approved Mark Means for Food Service Products

This mark will only rarely show up on KaTom products and even some of those that have achieved U.S. Food and Drug Administration (FDA)8 approval won't carry the FDA Approved mark. The FDA is known for testing to ensure the safety mainly for food and drug products that are new to the market, as well as monitoring those already on the market for any issues that might threaten the health of consumers. A smaller part of the agency's work is testing products that come into contact with food and may have some impact on it. For instance, some cooking equipment is tested by the FDA to ensure it won't release harmful agents into food when it's heated. Likewise, some beverage containers get the FDA Approved mark to assure consumers they won't leach anything toxic into the drinks they hold.