Advance Tabco Work Tables
Failing to choose the correct type of work table for your business's needs can be a costly mistake. Make sure you're picking the correct Advance Tabco work table by taking these valid points into consideration:
Which Gauge Is for You?
The lower the gauge, the more durable! The ideal gauge (thickness) for your table depends on what you plan to use it for. For example, if you plan on constructing crafts or bagging candies we would suggest a thin 18 gauge table for more bang for your buck. Plan on light preparation of food on your table? A 16 gauge would be ideal. Better yet, do you plan on doing some serious butcher work or quite a bit of food prep? A 14 gauge table will hold up to the constant, heavy duty use of the commercial kitchen.
Choose Your Top
Now that you know what gauge is best for you, why don't we talk about Advance Tabco top options? There are several types of tabletops to choose from, each better for certain utilizations.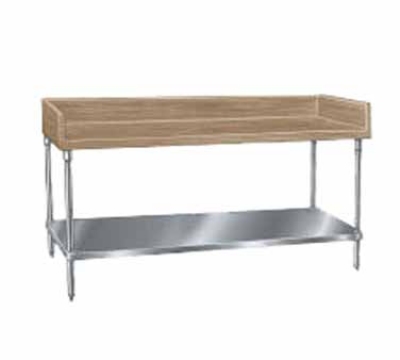 A baker's top features a wooden top, unlike the other work table to choices. These tables work great for bakery food preparation.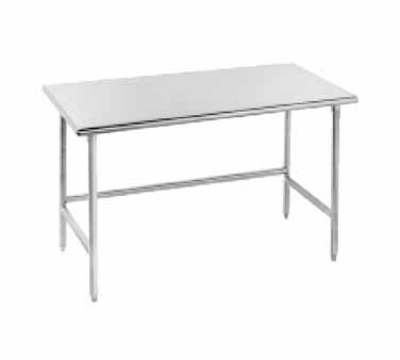 A flat style top makes your unit ideal for island type use as it can be accessed from any side in the kitchen.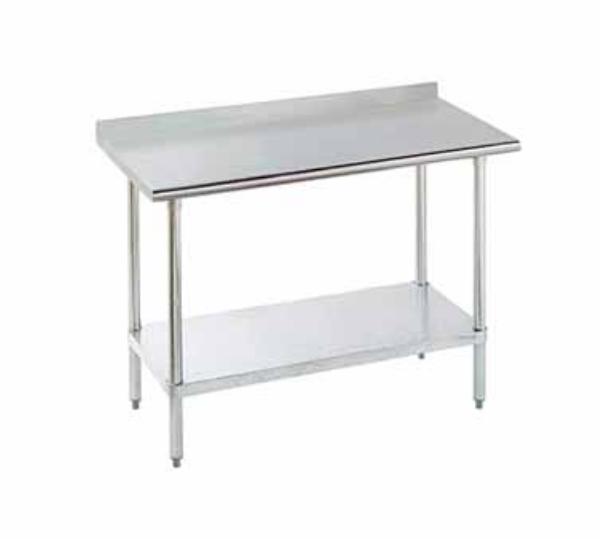 Tables with 1-1/2 inch backsplashes are ideal for food service operations that want to keep their work table near a wall. The backsplash acts as a barrier, protecting your walls from unsightly messes. This reduces clean up time!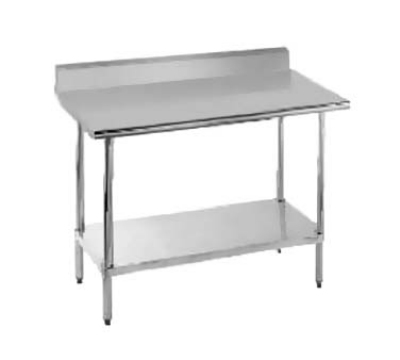 Tables with 5 inch backsplashes are the most common choice for food service businesses. As you can imagine, this type of top provides more wall protection than the 1-1/2 inch backsplash but may cost more.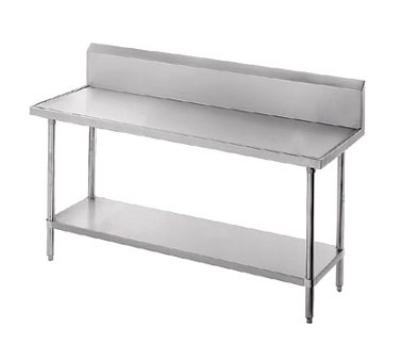 10 inch backsplash tops are available and tend to be used for both wall protection and for matching the height of the kitchen's equipment.
Advance Tabco offers their tops in either 430 or 304 stainless steel. The best material of top also depends on what you plan to use it for and how durable you need it to be. For example, if you plan on chopping up a lot of acidic foods or plan on using this table for a long time, we would suggest going for the 304 stainless steel top. 304 stainless steel contains more nickel than the 430 series, thus making it less inclined to rust and longer lasting.
On the Edge
It is now time to ask yourself what type of edge would be best for your table.
Square edge tables are great for those on a budget but do not provide the comfort or snug fit that tables with bull nose edges do.
Bull nose edges are rounded and more comfortable to work around, resulting in a happier employee. The sides of bull nose tables are 90 degrees, making for a tighter fit when placed next to another table or equipment stand.
Countertop edges help to stop mess in its tracks. This edge features a raised groove that traps in liquids, reducing clean up times and accidental floor hazards.
Legs, Legs, Legs!
Your tabletop looks divine and is now perfect for your needs but don't forget about what lies underneath. Advance Tabco offers legs in galvanized steel or stainless steel. If you're on a budget and don't live in a coastal area, galvanized steel should be able to do the job. Stainless steel legs are more durable and feature adjustable stainless steel feet instead of the plastic ones found on galvanized steel. Unlike galvanized steel legs, stainless steel legs hold up better in coastal areas due to their rust resistant nickel and chromium content. Advance Tabco also offers galvanized and stainless tables with an under shelf or an open base. Units with open bases are perfect for businesses who need more storage.