So You Want To Start A Funnel Cake Stand...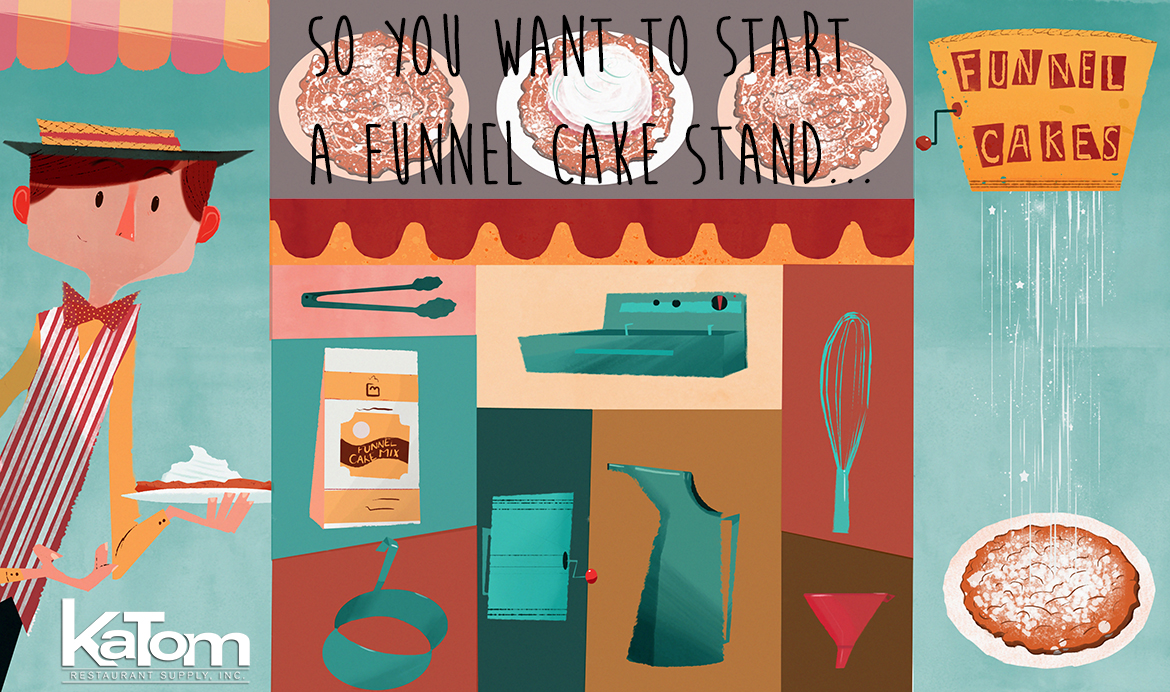 The excitement that goes hand in hand with being at a fair can really get an appetite going. No wonder so many choose to open up concession stands to take advantage of these hungry carnival attendees. Without a doubt, the King of concession foods is the one that emerges from the oil of the funnel cake fryer. People will quickly line up for this delicious sugar topped treat.
Have you considered opening your own funnel cake stand? It can take a little more than you would think. Thankfully, KaTom Restaurant Supply has put together a helpful guide on how to begin your funnel cake making business!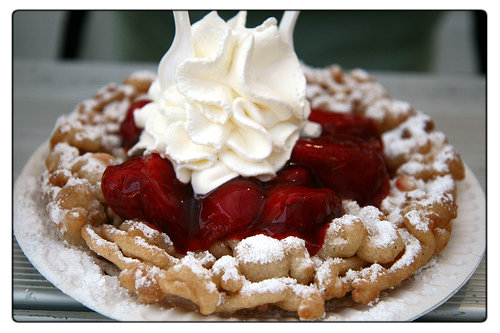 Find all of the funnel cake advertising, funnel cake fryers, and mold rings you need to get your business started with KaTom Restaurant Supply. KaTom also carries the extra toppings and funnel cake mix you need to make a superior funnel cake product!
Equip Yourself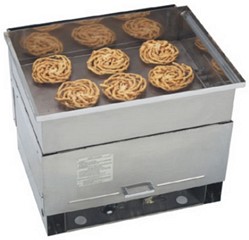 Every funnel cake stand needs an ample amount of equipment to successfully run. Typically, the most expensive piece of equipment in a funnel cake stand is the funnel cake fryer. You may think you can skimp by and get a cheap fryer model but be warned: you get what you pay for. Your business will be using the fryer quite a bit so it needs to be able to withstand heavy duty wear and tear. We suggesting using a Gold Medal funnel cake fryer, like the Super King Ultimate funnel cake fryer that easily cooks 8 funnel cakes at a time. With a strong funnel cake fryer like that, your business will be able to whip through lines of waiting customers quickly, increasing the amount of profit per hour.
You'll need much more than just a fryer to successfully sell funnel cakes. Funnel cake pitchers, or funnels (of course), make dispensing batter easy and delivers a uniform product that guests will love. Have you ever wondered how funnel cakes stay so perfectly round? Funnel cake mold rings are used to keep the funnel cake in shape while you pour the batter into the oil.
Other tools you may need include a spatula or tongs for retrieving the cooked funnel cake, a sifter for sprinkling delicious powdered sugar on top of the funnel cake, as well as a container or station where the sifting/draining process must be done. Having an area with a container for the excess sugar will help to keep your stand cleaner.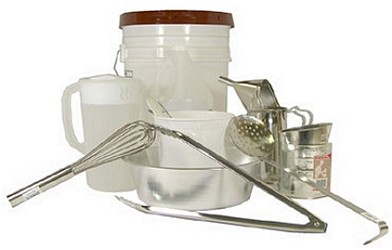 Don't forget about food containers to mix the funnel cake batter in as well as a skimmer for scooping leftover bits and pieces from your fryer's oil. You can buy all of these supplies separately, but KaTom Restaurant Supply also offers a great funnel cake maker tool kit that will make the job of shopping for your supplies that much easier. This kit features a funnel cake pitcher, whisk, tongs, a spatula, sugar sifter, fat skimmer, sugar pan, mixing bucket, and water measuring jug.
It is also a great idea to keep a whipped cream dispenser for dispensing fresh whipped cream onto your funnel cakes. Dispensers for extra toppings, like chocolate and honey, are also recommended. Though it is not a requirement, you may want to look into serving profit making beverages along with your funnel cakes. KaTom sells a great selection of drink dispensers that are sure to catch the eye of your potential customers.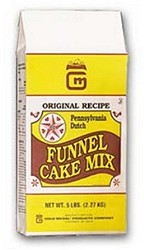 Pour Some Sugar On It
Now that you have the equipment you need to start frying those delicious funnel cakes, you'll need to look into the ingredients you will use. Pennsylvania Dutch funnel cake mix seems to be the crowd favorite everywhere you go. This mix not only yields a superb product, it makes it easy to whip up a new batch of batter in a hurry. Thankfully, KaTom carries both the Deluxe Pennsylvania Dutch funnel cake mix as well as the Old Fashioned funnel cake mix.
Have you decided what to offer your guests in the funnel cake topping category? While powdered sugar is a must, there are also a lot of other fruity flavors that are sure to please the crowd. We offer strawberry funnel cake topping, apple funnel cake topping, cherry funnel cake topping, as well as a great cinnamon topping mix! Don't forget about adding chocolate syrups and honey to your list of toppings!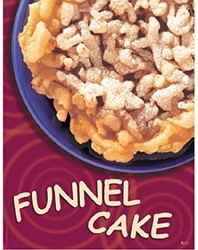 Do You Look the Part?
By now you have the equipment and ingredients to make the finest of all funnel cakes...but do you LOOK like you can? A funnel cake stand without graphics isn't going to be very appealing to guests at a busy carnival. Make sure to decorate your stand with eye catching funnel cake posters and lighted funnel cake signs to bring in the crowd.
An extra tip: Be sure to call ahead of time and reserve your spot at carnival events. There is certain to be a decent amount of competition in this seasonal market so you'll have to be "on your toes" with reservations, calling months before the event to snag a good space.
Licensing & Permits
With any business in the food industry, there are certain rules and regulations one must follow. The permits and licensing you need will depend on the state your business is in (as well as the county). Check with your local county clerk for what your business will need. The following site is also a great tool to use:
http://www.sba.gov/licenses-and-permits
Don't forget about passing your health inspection. Be sure to keep your stand clean with cleaning supplies as well as following HACCP guidelines.
We hope this guide has helped you along your way to a great funnel cake selling season! Be sure to top them well and serve them piping hot; customers are sure to line up from the smell! Do you have any questions about opening your own funnel cake stand? Let us know by commenting on the blog, sending us a tweet, hitting up the KaTom Facebook wall, our Google+ account, or our Youtube channel!!!
Follow @KatomRS