Your Wholesale Source For Restaurant Supplies & Equipment
KaTom Restaurant Supply is a leader in the commercial restaurant equipment industry, offering more than 160,000 quality restaurant supplies at wholesale prices, many available for next-day delivery. Whether you're just starting out or your food service operation has been satisfying customers for years, we carry all the equipment you need to build and grow your commercial kitchen.
Featured Restaurant Supplies & Equipment
Restaurant Kitchen Categories
Get Restaurant supplies to fit any Commercial Kitchen need
KaTom Restaurant Supply was founded on the idea that, "It's about you," and we know no two commercial kitchens are alike. You wouldn't have as much need for restaurant booths for a catering business as a person starting a buffet might, but you'll both probably need steam trays and lids. Your school or hospital cafeteria is going to need commercial ovens and ranges, while the nightclub or sports bar next door is going to belly up to bar supplies like commercial ice makers, fryers, and what foodservice amongst these won't benefit from a commercial undercounter refrigerator. We've got all your commercial kitchen equipment needs covered from the stove to the plate.
KaTom Has A 27 Year Track Record
KaTom Restaurant Supply has continued to grow as a leader in wholesale restaurant supplies for 27 years by putting the customer first. We are big-name restaurant supply brands with small-town service that's with you from your first thoughts about your bar, bakery or food service business, through delivery and thereafter. We are a BBB Accredited Business, a certified Women's Business Enterprise and one of the fastest growing companies in America.
Eco-Friendly Restaurant Supplies Available
We are a leader in green restaurant equipment and supplies, which means having a commercial kitchen that is better for the earth, your customers, and your bottom line. KaTom offers hundreds of innovative kitchen supplies and eco-friendly product lines that range from Energy Star-rated commercial appliances that are so top-of-the-line, they'll do the work for you, down to water-conserving faucets, and kitchen utensils made from food-safe recycled materials. Explore all our eco-friendly and energy-saving commercial kitchen equipment right here.
Shop Our Featured Brand Name Boutiques
The Learning Center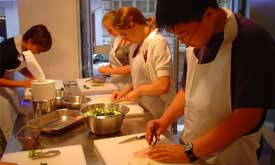 The KaTom Restaurant Supply Learning Center can help answer questions you may have about your industry or advice on buying the right restaurant equipment your commercial kitchen needs.
Read Our Articles
Stay Connected!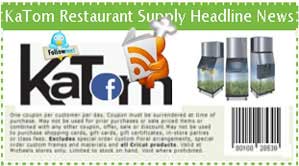 KaTom Restaurant Supply's inspired chefs' constantly add new recipes to share with your family and friends. Facebook fans will also receive exclusive savings and new offers on restaurant equipment, kitchen supplies, refrigerators, ice makers, commercial ranges and more.
Read Our Blog
Specialty Corner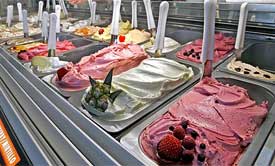 Get insight from other business minds and foodservice professionals about entering a new space with a foodservice business operation.