KitchenAid Stand Mixers Buyers' Guide

KitchenAid has long been one of the go-to brands for home chefs, with the company's famous stand mixers a fixture in millions of kitchens. That's thanks largely to their durability – hence the company tagline "For the way it's made" – and the opportunities to customize them for any job presented with a long list of attachments. But while it's easy to choose KitchenAid, it's not always as simple to decide which stand mixer is right for you or the home chef you love.
The company's earliest mixers were built for industrial usage, though they've come a long way since. With vibrant colors and a well-known, curvy design, today's KitchenAid stand mixer is as beautiful as it is useful. For the serious home chef, having a KitchenAid mixer is considered a symbol of a dedication to crafting fine dishes and baked goods, which is why many of them find a place for theirs not in a cabinet, but in a prominent place on the counter.
On top of all that, every one of these stand mixers comes with a 1-year, hassle-free warranty. That means if the mixer you buy fails during the first year of ownership, you will get a replacement free of charge.
If you're in the market for one of these countertop appliances, whether for yourself or as a very special gift, read on to find which model is perfect for your needs.
Jump to:
KitchenAid Classic Tilt-Head Stand Mixers
The details on this model: This unit has a 4.5-quart capacity and offers a tilt-up top that allows for easy access.
Why a KitchenAid tilt-head stand mixer?: Easy-to-use design, the durability that makes these stand mixers long-lasting, and a more accessible price than the other models.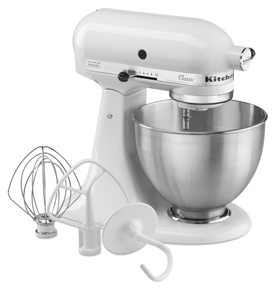 This stand mixer is the direct descendant of the Model K, the model that introduced the world to that patented design. It comes with a great price that makes it an affordable entry into the world of KitchenAid mixers.
A heavy base anchors the unit to the counter, while the motor sits above in the head. The top part of this mixer tilts up, allowing for access to the beater for easy cleaning, loading, or removal of the bowl, and plenty of room for adding ingredients. The head can then be locked back into place when you're ready to crank the motor up.
This model comes standard with a 4.5-quart stainless steel bowl, while the Artisan and Artisan Design mixers come with 5-quart bowls. All the bowls lock into place to help you achieve consistent mixing.
To ensure complete mixing action, KitchenAid designed these with a planetary mixing action rotated by a powerful motor that has 10 speed controls, spinning the beater clockwise as the shaft moves counterclockwise. That allows the beater to spiral to 59 touch points within the bowl, ensuring full incorporation of all ingredients.
Classic tilt-head stand mixer bowls, beaters, and dough hooks are all dishwasher safe, while included whips must be hand washed.
KitchenAid Artisan Stand Mixers
The details on these models: Five-quart stainless bowls with handles, powerful high-performance motors, and a rainbow of colors make the Artisan stand mixers an attractive option.
Why KitchenAid Artisan stand mixers?: Innovative planetary action that ensures even mixing, many color options to make it your own, and a bowl handle for easy moving.
KitchenAid Artisan Series models are both rugged and beautiful, with all-metal construction that can stand up to regular usage for years and a palette of colors options. They also include a high-polish, stainless-steel bowl that has an easy-to-grip handle, making moving your mixture a snap.
With a large 5-quart capacity and a high-performance motor, an Artisan Series mixer can handle mixtures that include as much as nine cups of flour. That means it's capable of producing enough dough for four and a half loaves of bread or 9 dozen cookies in a single batch. Similar to the classic tilt-head stand mixers, these models allow for the top of the unit to lift out of the way for easy access to the bowl, which locks securely into place in the solid base.
KitchenAid Artisan stand mixers have a revolutionary planetary mixing action that sends the beater spinning clockwise while the shaft turns in the opposite direction. That means the entire bowl is involved in the process, leaving no opportunity for unmixed ingredients.
Included with every one of these models are a beater and dough hook, both of which are covered with a white enamel coating that makes them dishwasher safe. An also-included metal-finish whip needs to be washed by hand.
Those three attachments, which come with all KitchenAid stand mixers, enable you to get even, consistent results whether you're making a meringue with the wire whip, a cake batter with the beater, or the makings of a loaf of bread with the dough hook.
KitchenAid Artisan Design Stand Mixers
The details on these models: Elegant design with a 5-quart glass mixing bowl that is microwave safe.
Why KitchenAid Artisan Design stand mixers?: An innovative glass bowl design that allows you to measure as you go thanks to markings on the side, see your ingredients to ensure even mixing, and move seamlessly from mixer to microwave when needed.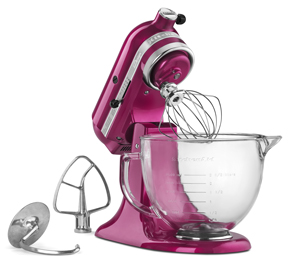 The KitchenAid Artisan Design Series brings all the benefits of the other models and adds a glass bowl that makes it even easier to use. Markings on the side allow for measurement as you go, while the clear glass helps ensure even mixing. This construction also allows the bowl to go in the microwave, which is a big plus if you have butter or chocolate to melt, or cream cheese to soften.
These KitchenAid stand mixers have high-performance motors with 10 speed options, sturdy metal construction, and bowl locks. You also get the planetary mixing action that spins the beaters clockwise as the shaft moves counterclockwise, hitting 59 touch points in the bowl.
KitchenAid Artisan Design stand mixers are available from KaTom in several colors, including sugar pearl, raspberry, azure blue, and apple red.
KitchenAid Professional 600 Series Stand Mixers
The details on these models: A super-sized 6-quart bowl, a lift that allows you to easily work with heavy mixtures, and a motor that can power through those.
Why KitchenAid Professional 600 Series stand mixers?: These bowl-lift stand mixers provide professional results at home, for the home chef who really wants to expand the menu.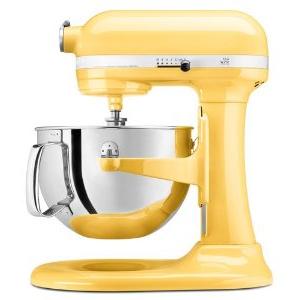 These are the workhorses of the legendary KitchenAid stand mixer collection. The most obvious difference between them and the other models is the size of the stainless steel mixing bowl – a hefty 6 quarts. That offers room for big recipes, while a super-charged motor can handle mixtures that include as much as 14 cups of flour. That enables you to produce enough dough for more than eight loaves of bread or 13 dozen cookies at once.
KitchenAid Professional 600 Series stand mixers have, as the name implies, a mechanism that raises the bowl to the level of the beater with the lifting of a lever. The fact the bowl otherwise sits considerably below the mixing arm means it's not in the way when you're adding ingredients.
These Professional 600 Series stand mixers have even more impressive features than the other models. They can reach 67 touch points within the bowl, still with the planetary action that sends the parts working in different directions for even mixing.
KitchenAid Ultra Power
The details on this model: This series includes a powerful 250-watt motor, and rugged, burnished steel dough hook, flat beater, and wire whip.
Why KitchenAid Ultra Power stand mixers?: The Ultra Power mixer features the same tilt-head design and styling as the Classic series, but with a more powerful motor and the inclusion of heavy-duty burnished steel agitators.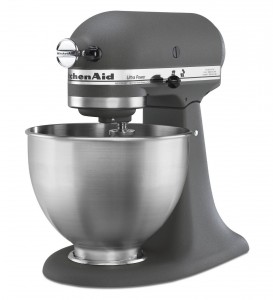 The KitchenAid Ultra Power Line is essentially a beefed-up version of their Classic mixer. It's built with a more powerful motor that can handle dense ingredients. The included burnished steel attachments feature a smooth finish that facilitates cleaning and makes for a long life.
This line of KitchenAid stand mixers features a 4.5-quart bowl that can accommodate more than six dozen cookies or three loaves of bread per batch. Its reliable planetary mixing action hits 59 touchpoints around the bowl per rotation to create a thorough mixture, while 10 speed controls include optimal settings for stirring, slow mixing, beating, creaming, and whipping.
KitchenAid Commercial
The details on this model: An 8-quart mixing bowl and 500 watt, 1.3 HP motor make the KitchenAid Commercial Stand Mixer the most powerful in their lineup.
Why KitchenAid Commercial stand mixers?: With its large capacity, extra thick orange power cord, and NSF and UL commercial listings, this line of KitchenAid Stand mixers is the only one that's rated for commercial kitchens.
These stand mixers are the only ones from KitchenAid that are built specifically for foodservice kitchens. They offer the most spacious mixing bowls, at a generous 8-quart capacity. Together with a high-powered, 500-watt motor, that's enough room to handle as much as 14 cups of flour, 12 dozen cookies, or eight loaves of bread in one batch.
Commercial Series mixers each include a brushed stainless steel bowl with a "J" style commercial handle. The beater, whip, and dough hook are made from dishwasher-safe stainless steel, and the heavy duty metal knobs stand up to repeated use. Like other commercial mixers, this one includes a bowl lift for getting heavy loads of ingredients to the agitator, providing ample clearance to add ingredients and remove the bowl when it's lowered.
KitchenAid Commercial mixers are built with Advance Sensory Feedback controls that monitor the machine's workload 15,000 times per second to consistently deliver the precise power needed for a variety of mixtures. That feature provides the results commercial operators need while extending the life of the mixer's motor by reducing wear and tear.
KitchenAid Stand Mixer Attachments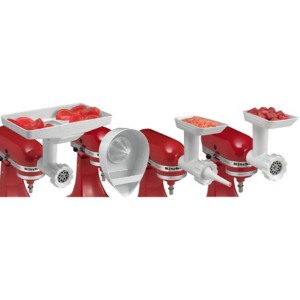 The thing that made these stand mixers the true standard in kitchens around the world is the attachments. Every model, from classic tilt-head to Professional 600, from Artisan to Artisan Design, includes a hub on the front of the mixer head that can play host to dozens of extremely useful KitchenAid attachments. Those range from meat grinders to juicers to pasta makers.
If you want more information to decide which KitchenAid stand mixer is right for you or if you just have questions about these great products, please contact one of our customer service representatives at 800.541.8683 or through e-mail at info@katom.com.
KitchenAid trademarks and © used with permission.