Cambro Food Carrier Buyers' Guide

Cambro food carriers are among the most essential pieces in a caterer's toolkit. Rugged and lightweight, Cambro carriers are designed to transport food from your kitchen to the venue with ease so your catering staff can focus on providing world-class service, instead of wrestling with cumbersome catering equipment. This guide will help you choose the right Cambro food carriers for the job.
Cambro Front Loaders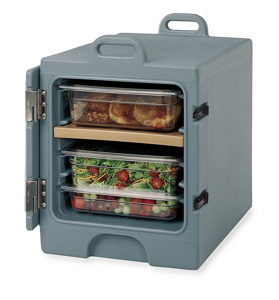 Cambro front loaders are the workhorses of busy catering operations. Many are equipped with casters, and those that aren't can be mounted on a dolly, so these carriers can be filled with as many as 16 pans and rolled into a van, across rugged terrain, and right into the venue where your food will be served. Polyurethane insulation helps retain the temperature of your food, so it stays within just a few degrees of its starting temperature for four hours or more.
Polyethylene exteriors can handle the abuse that the carriers are all but guaranteed to suffer as they're loaded, unloaded, and transported. Bumpers help deflect the damage of impact with walls and other equipment. Removable gaskets form an airtight seal around doors and are easy to remove for cleaning. Doors swing open to sit flush with the side of the carrier so that catering staff can have full access to everything held inside the equipment.
The smallest UPCH400 Cambro front-loading carriers can hold four 4-inch-deep, full-size pans or six 21⁄2-inch-deep full-size pans. Mid-sized UPCH800 carriers can transport twice that many, while the extra-large Cambro UPCH carrier will hold four times the number of pans that the smallest one can.
Advantages of Front-loading Carriers
Easy to transport: Most front-loading carriers can be equipped with casters or mounted on dollies so they can be wheeled from place to place.
High capacity: Front-loading carriers are available in sizes large enough to accommodate more than a dozen full-size food pans. Two-compartment models can transport both hot and cold foods simultaneously.
Disadvantages of Front-loading Carriers
Heavy: Their large sizes mean that, except for the smallest models, front-loading carriers are too bulky to be lifted and carried by hand. This prohibits them from being hauled in cars and vehicles without ramp access and makes them impossible to carry up stairs.
Cambro Top-loaders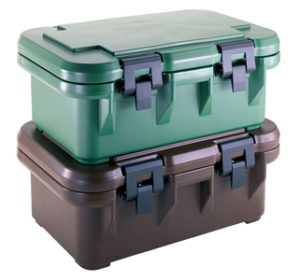 Cambro top loaders are ideal for transporting individual full-size pans and smaller, fractional pans. Often, they're simply placed on a serving table and opened, allowing staff to serve food directly from them. Insulated with the same polyurethane as larger carriers, they help keep food at its ideal temperature throughout service.
All Cambro top loaders are sized to accommodate a single full-sized pan per layer. They come in various depths, with the largest ones capable of holding a single 6-inch-deep or 8-inch-deep pan, two 4-inch-deep pans, or three 21⁄2-inch-deep pans.
Advantages of Top-loading Carriers
Lightweight: Top-loading carriers are relatively compact and lightweight, meaning that smaller ones can be carried by a single member of staff. This means they can be carried up stairs and transported to remote places easier than front-loading carriers can.
Direct Service: For many applications, food can be served directly out of a top-loading carrier. This does away with the need for chafers and other additional serving vessels, and since the servers are insulated, they'll keep food at an ideal temperature as it's served.
Disadvantages of Top-loading Carriers
Low Capacity: Top-loading food carriers are designed to hold just a handful of food pans, so they may not be the right choice for events requiring high volumes of food.
Choosing Between Heated & Non-Heated Cambro Carriers
If you decide to go with a front-loading carrier, you'll have the choice between heated electric carriers and non-electric carriers that maintain food temperatures with insulation alone. Answer these three questions to make a well-informed decision.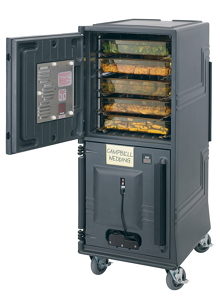 1. Is electricity available at the venues where you'll be serving?
If you specialize in catering primarily to outdoor venues, an electric catering carrier may not be a viable option. On the other hand, if you mainly cater to indoor events where electricity is usually available, it's probably a good idea to invest in electric Cambro food carriers.
2. How long will you hold food?
When they're loaded properly and access is kept to a minimum, insulated carriers can hold food at safe temperatures for four hours or longer. If you need to keep food hot for longer than four hours, you'll need to invest in a heated Cambro carrier, which can keep food hot for extended periods.
3. How frequently will you access food held in your carrier?
Each time you open the door to your food carrier, you shorten the amount of time that it can hold ideal food temperatures without the help of a heat source. You should take into consideration how frequently you'll need to access your equipment before you choose between electric and nonelectric food carriers. If your service is scheduled such that food is taken out and served all at once, then an insulated carrier will likely serve you just fine. However, if service is spread across the course of several hours and catering staff need to frequently access the cabinet, you'll probably need an electric carrier.