Vital Restaurant Inspection Information

What You Need to Prepare for & Survive an Inspection
Inspection Information Chapters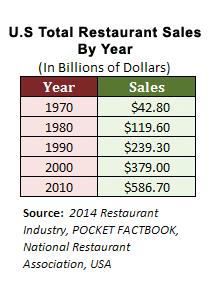 The Food Safety and Inspection Service (FSIS) is an agency within the U.S. Department of Agriculture. Along with the U.S. Food and Drug Administration, the FSIS upholds public health by supervising and regulating food safety. Restaurants and other businesses that serve food to the public are regularly inspected to ensure that they are using safe food handling, adequate commercial refrigeration, adequate cooking temperatures, and sanitary food storing procedures.
Inspection Procedures

There are different procedures for inspecting restaurants, and they vary depending on the type of inspection being performed. The frequency of inspections is determined by local laws. Inspections look for practices such as handwashing, raw meat handling, and the presence of pests to determiner where the food is at risk for contamination and cross-contamination.
Types of Restaurant & Food Inspections:
Other resources on food & restaurant inspection procedures:
Inspection Policy Documents

Restaurant inspectors use inspection reports to note the conditions in each restaurant. The reports include sections such as Proper Use of Utensils, Employee Health, Preventing Contamination by Hands, and Potentially Hazardous Food Time/Temperature for which the restaurant is given points.
Restaurant managers can use the following documents to determine areas in the kitchen and workplace that would be examined by inspectors, to take corrective action.
How Restaurants Are Scored & Graded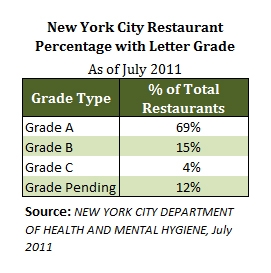 The inspection reporting system includes two sections: Red critical violations are practices of handling food that greatly increase the risk of foodborne illness, when not followed properly. The Blue violations refer to sanitation and maintenance, and measure practices that are far less likely to cause foodborne illness. The San Francisco Department of Public Health explains that restaurants are given a ranking of high, moderate, or low risk after an inspection. Letter grades of A, B, and C are assigned to restaurants based on sanitation and food safety practices.
The following resources explain the process of scoring and grading restaurants during health inspections:
Restaurant Alerts
Restaurant alerts may be posted about restaurants that are found to be particularly unsanitary, or their food practices unsafe, to diners. Below is a list of resources that consumers can check for updates and alerts on restaurant food recalls and closures:
Smoke-Free Air Act Information for Business Owners & Employers
The Smoke-Free Air Act, established in 2006, essentially bans smoking in all public dining facilities and in many other public areas such as office buildings, doctors' offices, and concert venues. Exceptions to the law include casinos, cigar bars, and designated motel and hotel rooms.
Laws & legislation regarding the Smoke-Free Air Act:
Helpful websites & resources for business owners and employers:
Food Safety & Sanitation Resources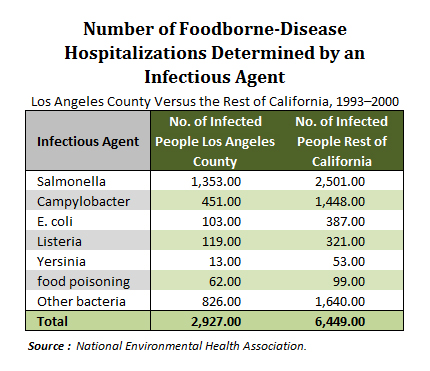 Restaurant Inspection Awards
Restaurants can qualify for an Award of Excellence in Food Safety by achieving a certain criteria for safety within a set period of time. The criteria include having no major health violations, passing at least three unannounced routine health inspections, and possessing a current Environmental Health permit. Below is a compilation of counties and states that have published the winners of such an award.
Other Relevant Laws & Legislation
Federal Meat Inspection Act of 1906:
Poultry Products Inspection Act of 1957:
Egg Products Inspection Act of 1970:
Relevant National Updates
The FSIS posts the most recent regulations, directives, and notices to keep citizens abreast of developments in food-related regulations. In 2014, the following FSIS notices and directives have been submitted.
Sampling of FSIS notices issued in 2016:
Sampling of FSIS directives issued in 2016:
Many counties will include on their local government website a search function that allows locals to view restaurants' inspection grades and their full reports.
Miscellaneous Relevant Resources Not Included Elsewhere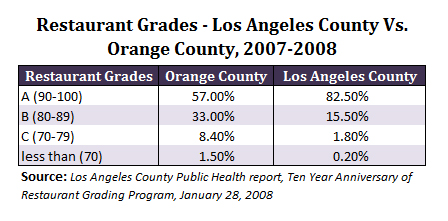 How to Report a Restaurant to the Health Department: