Featured Product: Ice Machines
When thinking about ice machines and their many uses, it's really hard to leave any business out of the loop – Restaurants, hospitals, bars, prisons, schools, and convenience stores all need ice to function.
Ice Machines are not all created equal and neither is ice. Each brand has its own twist on ice and how it is made. For example, a pearl ice machine may be exactly what you need if you are using ice primarily for beverages. Some other names for this small, pebble sized ice are nugget or cubelet. It is a soft ice that is very easy to chew. It is great for beverage dispensers and perfect for blended drinks.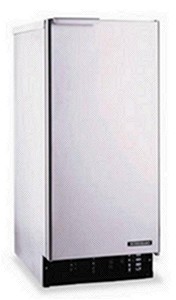 The Ice-O-Matic GEMU090 Pearl is a great example of a pearl ice machine. It has an ultra-low profile (33.375") and large door for scooping ice, which makes it a perfect fit at a nurse's station, break room, or in a hotel. This machine can make up to 85 pounds a day.
Top hat ice (AKA gourmet, gourmet cube, or octagon ice) is perfect for fine dining and non-blended drinks in any restaurant or bar. A durable machine to consider is the Hoshizaki AM-50BAE (add "-AD" for compliance with the Americans with Disabilities Act). It is sleek, features a stainless steel exterior, and is even approved for outdoors. Made for under the counter use, it stands at less than 34" tall. It is easy to install and has a power switch that is accessible without panel removal. It produces up to 55 pounds of ice daily.
A great universal ice is full cube (aka medium cube or dice) ice. Whether you are bagging ice in bulk or just serving drinks, this ice can do the job. The Manitowoc Indigo Series ID-1202A can make up to 1100 pounds of ice a day.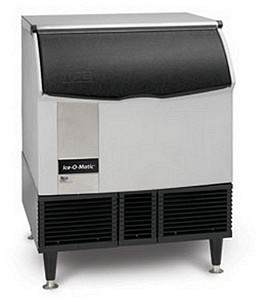 The half cube (also known as small cube or half dice) has universal uses. Blended drinks, self-serve dispensers, quick service, fine dining, retail, hospitality, and schools can all benefit from this type of ice. The Ice-O-Matic ICEU300HA is a great way to combine power, efficiency, and space saving in a low cost unit. Its built-in antimicrobial protection ensures the life of the machine by inhibiting bacterial growth on the ice maker's surfaces and makes up to 356 pounds of ice a day to boot.
If you are interested in ice solely as a way to chill and display your products, try a flake ice machine. Hoshizaki's F1500MAHB1500SS is a great example of an efficient flake ice machine. Every 12 hours it goes through a 15 minute flush cycle to remove sediment, which creates cleaner ice. It makes and stores approximately 1500 pounds of ice per day.
Think Twice, Buy Once:
How much ice do I go through in a day?
What am I using the ice for?
How much space do I have for an ice machine?
What type of ice suits my needs?
Do I need a warranty?
What is the temperature inside my establishment? (helps to determine which type of condenser is needed)
How much I am willing to spend?