Hot Bar
Whether in self-service applications like buffets or back-of-house, a hot bar is a great way to keep food warm until serving. Food pans are placed over water pans heated from below by a burner. That creates steam, which provides quick and even heat transfer to the food above. Gas and electric models are offered, as are a wide variety of sizes. Many electric models have casters for mobility, making them a good choice for caterers. Most models have either a stainless steel or laminated vinyl exterior.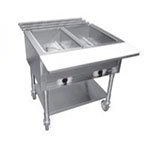 Keep your food warm, delicious and ready to serve for hours with an electric hot food bar. Great for buffets, banquet halls, and cafeterias, these hot food tabl...
Shop All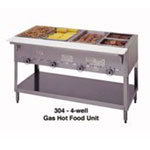 Prepare your food in advance and keep it hot and delicious for hours with a gas hot food bar. Great for cafeterias, buffets, casinos, banquet halls, and other h...
Shop All