Lodge's 3.5-in Round Cast Iron Seasoned Mini Skillet is ideal for cooking silver-dollar pancakes and individual eggs. It can also serve as a unique presentation option for desserts and individual portions.
Product Details
Pre-seasoned for easy clean-up
Not for use in dishwashers
3.5–in. dia.
Made in USA
Product Features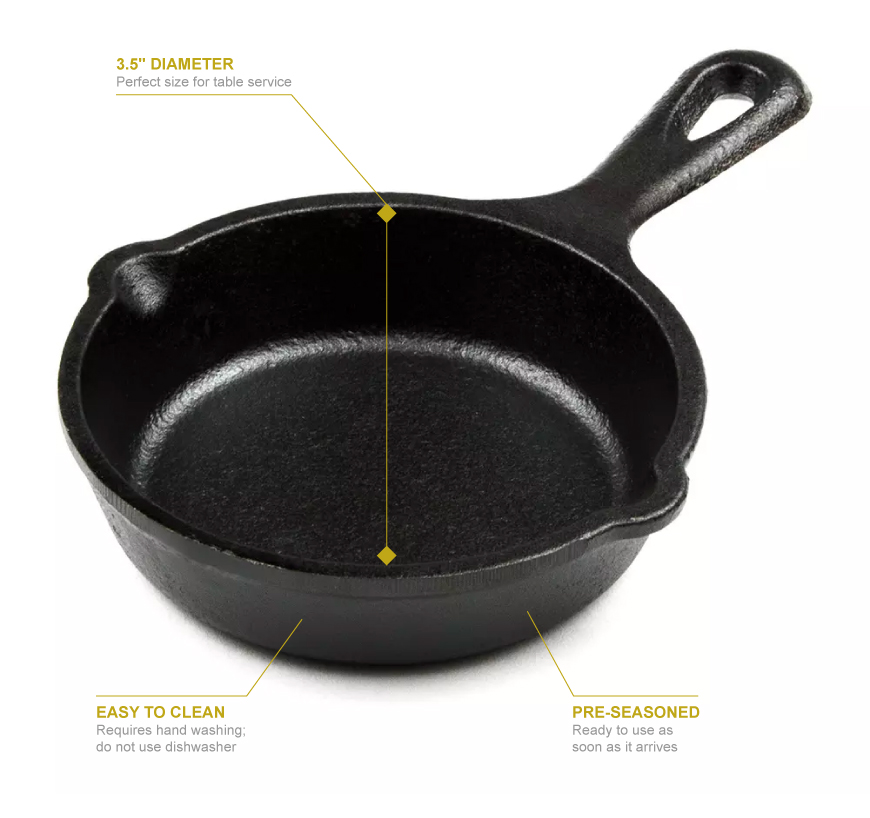 4-oz Lodge Logic Miniature Skillet, 3-1/2" dia., seasoned, cast iron (hand wash only - do not use dishwasher)

Important Prop 65 information for California residents.
Lodge LMS3 Specifications
| | |
| --- | --- |
| Manufacturer | Lodge |
| Color | Black |
| Material | Cast Iron |
| Size | 3-1/2 in |
| Style | Cast Iron |
| Type | Presentation Cookware / Serveware |
| Warranty | Lodge Stands Behind its Products; Contact Customer Service for Assistance |
| Product Type | Servingware |
| Product | Skillet |
| Weight | 0.67 |
Lodge LMS3 Customer Reviews
Happy said...
"We ordered 66 mini skillets for our Couples Refresher camping theme. They were so cute and very nice and heavy for the size. Our couples loved th..."
Toptaipan said...
"Outstanding quality! Exactly what I was looking for and at a great price point. Delivery was fast!! Thanks again."
MarkB said...
"This is perfect for making egg sandwiches on english muffins."
See All Lodge LMS3 Customer Reviews
"We ordered 66 mini skillets for our Couples Refresher camping theme. They were so cute and very nice and heavy for the size. Our couples loved them. Katom even sent us a few extra just in case we had any problems. We had two broken in shipping but the extra ones covered those. I would definitely order again from this company!"

"Outstanding quality! Exactly what I was looking for and at a great price point. Delivery was fast!! Thanks again."

"This is perfect for making egg sandwiches on english muffins."

"I never new cast iron could come this small and have no idea of what to you it for except add to my key chain."

"These were a gift for my Mom and they were exactly what she wanted. Easy purchase and fast shipping."

"I bought these small Lodge pans to make personal size desserts. They work perfectly! This was my first order from KaTom and it was well packaged and arrived fast. I am very happy."

"My husband and I love cast iron cooking and decided we wanted to try out some individual desserts using these mini skillets. We first tried them out over Memorial Day weekend. We made mini skillet brownies and they were a hit with us and our friends! We also made mini blueberry pies and apple crisps. They turned out fantastic.These mini skillets are just the right size for a small dessert. Our friends plan on buying them so they can try them out."

"Using my mini as a spoon rest on my stove. Ordered extras as gifts. Everyone loves them."

"I wanted these for individual toll house cookie pies. When I received them I thought they looked small but they ended up they working perfectly."

I would not buy this product

"The size is too small for any practical use. Lodge makes the best cast iron products but if you want individual pans, choose something else!"

"I love the mimi skillets (I ordered enough to make individual apple pies for Thanksgiving. Each guest was allowed to take their pie (and pan) home because no one ever has room for desert immediately. Big hit!"

"Paper weight"

"A little smaller than I expected but it's a gift for my daughter-in-law, so I hope it's the size she wanted!"

"have been looking for one of these to make Mcdonalds sausage/egg muffins. very glad to have found one,and at a terrific price. Thanks for your product and your help, Waag"

"Ok it was my fault these are really adorable but we messed up and they were way too small for an individual dessert. they are better suited for a small biscuit or cornbread or something like that. So we got the next size up which will be better for what we had in mind."

I would not buy this again

"I recently purchased these cast iron skillets not realizing how small they are ! I wanted to return for a bigger size but it will cost me more to return than what I paid for them ! I will not be returning them and no longer purchasing anything else ! I will use them for something since I have 10 of them !"

"WORKS GREAT WITH WESTBEND TOASTER"

I will visit your website for more of my home kitchen needs.

"I have been looking for these mini Lodge frypans for quite a while, and was happy to find them on your website at a very reasonable price."

"Very nice pre-seasoned cast iron skillet. Should work well for mini egg casseroles."

Outstanding! Will be ordering more!

"For desserts. Saw them on a cooking program They make for a beautiful presentation. Wish the 3.5" and 5" skillet had wood serving platters."

"They are adorable and great for a pat of butter and one egg. Straight on top of an english muffin, it's the perfect size."

"bought 8 of these mini skillets for a western themed dinner. They are absolutely perfect for making individual tarts. My company was in awe......"

They are just what I needed.

"The first thing I used them for was to make individual brownies for dessert. I have since used them for several other dishes. They are the perfect size for many single serve items. They work great for biscuits, rolls, my cast iron cornbread as well as some side dishes and other desserts. And...they are so cute. My husband even commented on how well they work."

Perfect for brownies, baked eggs

"I bought these before the holidays for entertaining. I first used them to make brownies...what s hit. The brownies come out crispy on the outside and gooey in the middle and can be served straight from the oven. Everyone loved the brownies. I then made baked eggs...again crispy on the outside and soft yolk on the inside. And the eggs stay hot the entire time you are eating them....one large egg per skillet. I then made individual servings of s melted cheese appetizer for New Years. Put each skillet on a small plate with s napkin underneath...perfect! I bought twelve...and they store very compactly. I just ordered another set for my weekend house."

"Perfect for an egg, to do 2 eggs, you must mix them together in a bowl first and add them together. I think it would be great for roasting spices."

"tHESE SMALL SKILLETS ARE GREAT FOR MAKING SMALL INDIVIDUAL CORN BREAD PONES. fRY A SINGLE EGG IN A FLASH"

"I saw a chef on TV use these for individual servings of brownies. I had to have them. Did some searching online and found them here. Great price, fast delivery, exactly what I expected and they are just too cute. Will use for brownies, little quiches, and mini pies."

Functional as well as cute

"Used these adorable little skillets for individual servings of brownines. They received oohs and ahs for presentation and I loved the even cooking and cleanup."

"I was saw this item on a cooking show and was determined to find it...it's the right size for brownies or individual cakes. I plan to buy a few more!"

"Awesome shipping."

"Great for hot cookies smothered with ice-cream and hot fudge! Also great for party desserts, breakfast casseroles, and biscuits..."

"Same as every other store is selling, but less expensive!"

"While it arrived "pre-seasoned" it's a cast iron pot and you have to treat it accordingly."

Perfect for Single Servings

"I love my new Lodge Logic Miniature Skillets. I am using them for single serving berry cobblers for a group of girlfriends. I baked a trial run and love the individual size. They came to be ready to use after washing. (No seasoning required!) I would order from Katom again, anytime!"

Perfect size for egg/biscuit sandwiches

"I use these occasionally at home and camping for making the perfect size fried eggs for an egg/biscuit sandwich. I add sausage, cheese, etc. to my egg and fry in the little skillet. I add this to a freshly baked biscuit for my version of a fast-food breakfast. The only problem I have had was flipping my egg in that small of a skillet. I found that a small silicone spatula was an easy fix to that problem. This skillet also works well on small alcohol and Sterno type stoves."

"I was hoping that the measurements referred to the bottom of the pan, but it is actually the top-- making this too small for my intended use. Oh well... it's cute. If I smoked, I guess I could use the four that I bought as ashtrays..."

Fantastic individual serving skillets!

"I made wonderful individual servings of berry cobbler and it stayed warm from the oven until dessert at the end of dinner!"

"I just love them for making cornbread!!"

Just what I wanted perfect!!

"Haven't used the product yet but will and looking forward to iT!!! Fresh Fruit,shortcake and whipped creme! YUM Thank-U and would shop your web-site again!!!! Bonnie Owens"

great ending to the perfect dinner party

"I used the miniature skillets to bake chocolate chip cookies, then topped them with hot fudge sauce and whipped cream. Perfect size! everyone loved the taste and presentation in the skillets."
Write A Review