Vitro

Vitro is the original manufacturer of 1950's dining furniture.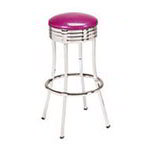 Make a great impression on your guests with Vitro 50's Series restaurant furniture.
Shop All
Make the ideal first impression by using only the best Vitro bar stools.
Find the best bases for your restaurant dining room with our fine selection of Vitro table bases.
Find the best seating solution for your needs by shopping our Vitro dining booths.
Sitting just got a lot better with attractive Vitro chairs.
Pick the tabletops your restaurant or business establishment needs by browsing our selection of Vitro table tops.
Vitro outdoor furniture comes in a large number of styles so you can set the mood.