Browne Foodservice

Browne Halco is the complete foodservice solution. They focus on value-added products from their elegant buffet ware to basic kitchenware.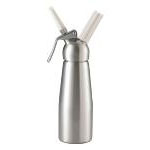 Give your desserts a finishing touch with Browne whipped cream dispensers.
Shop All
Experience the satisfaction of a fully equipped table ensemble with Browne-Halco tabletop essentials.
Your kitchen will be fully equipped and squared away with the latest in Browne-Halco kitchen essentials.
Customize your steam table with Browne-Halco steam table pans and accessories.
Have everything you need at your fingertips to keep your bar running productively with Browne-Halco barware.
Get cooking and keep it coming with Browne-Halco cookware.
Have fun in the kitchen baking a variety of delicious cakes and pies when you use Browne-Halco bakeware.
Everything you need to make a great meal is at your fingertips with Browne-Halco food preparation utensils.
At the finishing touches to your table settings with Browne-Halco flatware.
Serve hot beverages any time of day with a Browne-Halco coffee and tea service.
Set up a buffet that will keep customers coming back for more with Browne-Halco buffetware.
Take the stress and labor out of pizza making and put back in the fun when you use Browne-Halco pizza accessories.
Add a touch of contemporary style to your dining room decor when you use Browne-Halco premier dining.
Browne Foodservice Top Products