Good, Healthy Food On-Premise is a Winning Recipe for Scripps Networks

A KaTom Project Case Study
Overview
When Scripps Networks completed their new headquarters in Knoxville, Tenn., complete with sustainable design, open spaces, and a "family" atmosphere, the company needed a kitchen and cafeteria that would support their 900 on-site employees with delicious, healthy food.
Previously, Scripps had a grab-and-go lunchbox area and then a catering service, but in response to employee feedback, the company wanted to provide a space for breakfast, lunch, and snacks that was superior to restaurants in the immediate area. A company that uses cable networks and print medium to empower millions of people to eat good food, stay active, and design beautiful kitchens, Scripps wanted to build a cafeteria that could support those habits in their own team members.
The Challenge
Renovating an existing area usually proves to be more difficult than building from scratch, but KaTom Restaurant Supply came in and looked closely at the site, took time to understand the scope of work, and provided detailed shop drawings to show how the equipment would fit in the space.
"A renovation is always difficult, even when you know the building backwards and forwards," says Greg Moore, now the facilities project manager for Scripps Networks and formerly the project manager for Blaine Construction, who did the general contracting for the cafeteria project. "Our biggest challenge was limited space—the ceiling height, wall space, and even figuring out how to get large equipment through the door."
Solution
After receiving bids from a number of subcontractors, Blaine Construction chose KaTom to provide and install the kitchen equipment for the project. "We bid the job out and ultimately chose KaTom because they had a competitive price and had done their research on our space," Moore says. "We rely on subcontractors to be experts in their field. KaTom knows kitchen equipment and has the industry contacts to do their job well."
KaTom removed all the old equipment, putting some of it in storage to be reused. They ordered and installed new equipment and supervised their own subcontractors, finishing the installation in two weeks. "We had some issues along the way, including a few wrongly-sized pieces of equipment shipped by a manufacturer and an incomplete millwork job, but we were able to use our relationships with manufacturers to get things changed out and complete the job so the health inspections could be done," says KaTom Vice President of Business Development John Chesworth.
The result: a state-of-the-art cafeteria with sleek, energy-efficient stainless steel equipment, tightly configured in a renovation space to maximize usability and production of healthy, delicious food for the Scripps Networks family.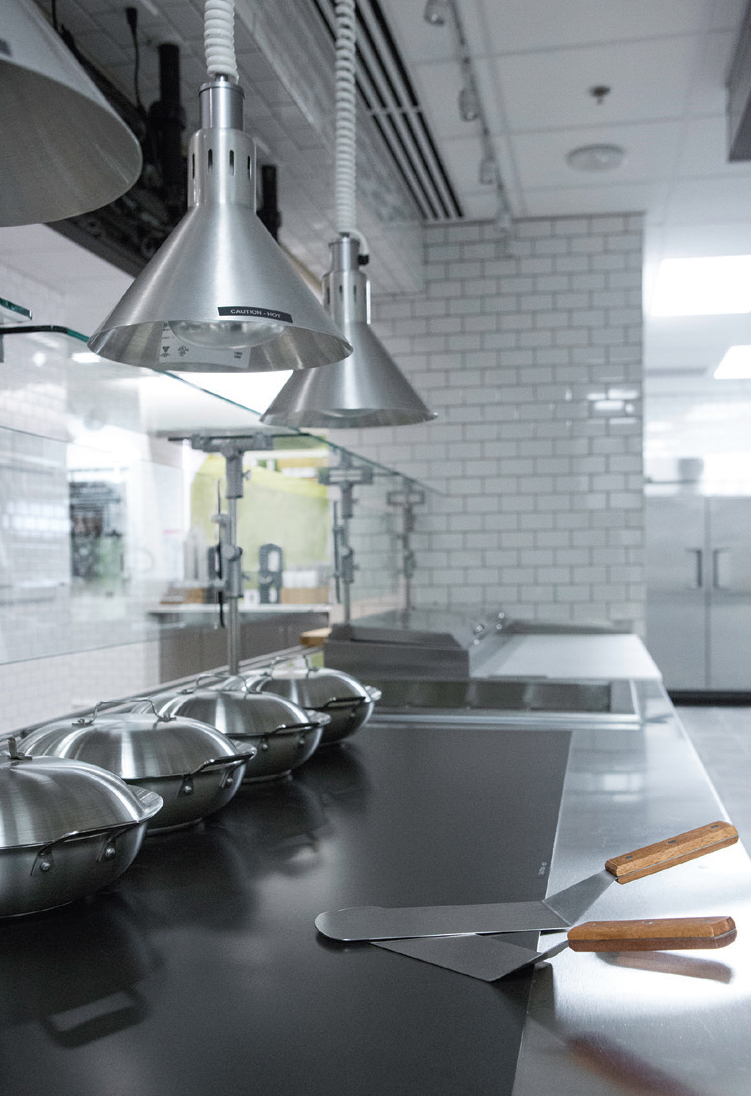 Photo Courtesy of Scripps Networks
Benefits
As an internationally-known media company, Scripps Networks teaches millions of people how to live a healthy, food-rich lifestyle. Now they can provide delicious, healthy foods and drinks for their employees, too.
"The new cafeteria helps bring Scripps' mission of a healthy work environment to life. It's given our employees the opportunity to eat good food right here on the premises, helping them live and work healthier and more productively."