The Original Hamburger Booms at Gatlinburg Johnny Rockets

A KaTom Project Case Study
Overview
When Chad Kennedy decided to create the first Johnny Rockets in East Tennessee, he knew he had a winner for the tourist town of Gatlinburg. He also had some idea of what he was getting into, having already shepherded three local dining concepts to success.
Kennedy had the space – right on Gatlinburg's busy main drag – and decided to take on the challenge of opening two restaurants at once, with a Johnny Rockets downstairs and a new Mexican concept above. It's a job he says he wouldn't have been up to without the backing of the Rocketeers and KaTom Restaurant Supply.
The Challenge
There's an old saying in East Tennessee that you have to build a church for Easter and Christmas, when crowds are at their heaviest, even though that may mean a lot of empty pews the rest of the year. The same is true in the area where Kennedy has decided to do business. Gatlinburg hosts more than 10 million people per year. Kennedy knew he had to build one of the biggest Johnny Rockets locations in the chain. He also knew there would be a few months every year when his kitchen may only serve a couple hundred people a day.
"Our situation is quite different since we're in a tourist town. Our business hits all at once for about eight months out of the year," Kennedy explains. "I knew Johnny Rockets would be a great fit for Gatlinburg. It was just a matter of making sure we did it a little different. But I was committed to bringing this concept here."
The Solution
Kennedy turned to KaTom Restaurant Supply, the company he first bought a few smallwares from four years ago and now trusts for 99 percent of his equipment and supplies orders, from janitorial to refrigerators. KaTom's Will Kieffer took point, coordinating the efforts of the company's project team to craft a kitchen that could handle the 150 customers at a time he expected to serve.
The KaTom team worked with manufacturers to get the custom pieces that fill most Johnny Rockets locations' kitchens just right, relaying CAD drawings to Kennedy and taking his comments back to the companies. The KaTom representative also helped coordinate deliveries of all the FF&E to the site as the company supplied the restaurant from the ground up. Kieffer didn't even bat an eye when Kennedy gave him the directive to, "Find me the biggest grill he could." When Johnny Rockets opened in Gatlinburg in Oct. 2011, it did so with the largest flattop in any of the chain's locations – a 7-foot behemoth from Jade Range that Kennedy knew would handle the summer rush.
"The whole KaTom team is just great to work with. Even with all the spec pieces, they made the process relatively painless," Kennedy says. "They provide service with a personal touch and their work on pricing saved me money. We wouldn't have been crazy enough to take this on if we hadn't had them backing us up."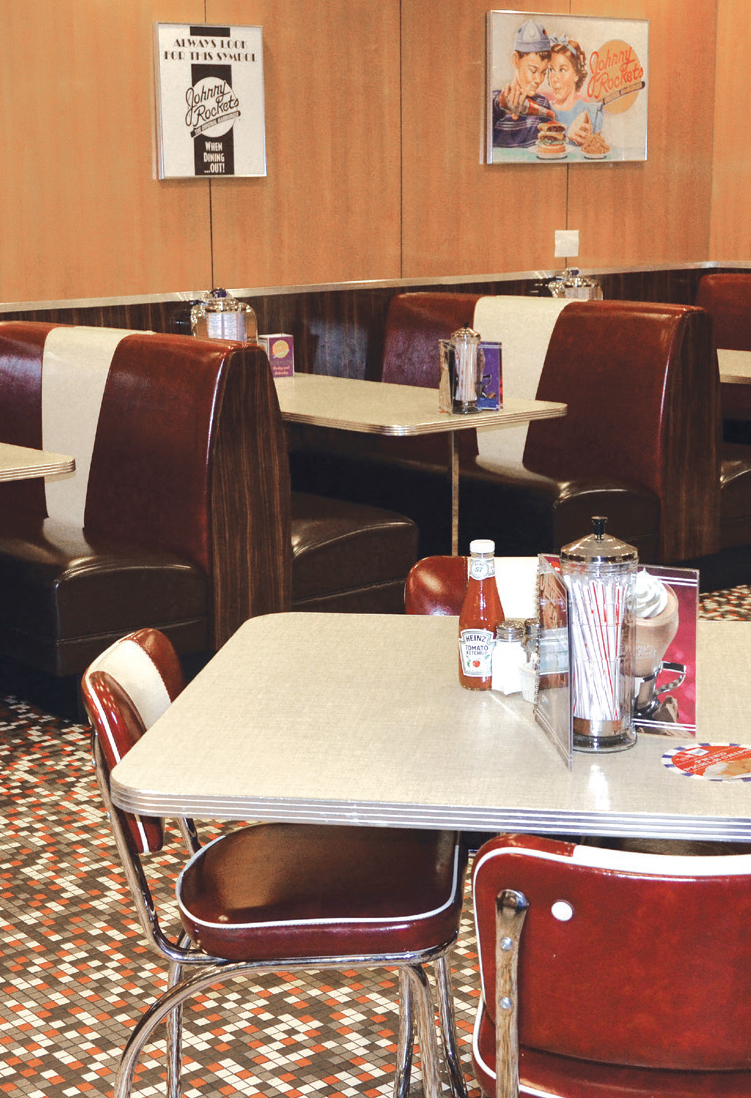 The Benefit
The team efforts on getting the perfect sizing for the kitchen equipment paid off when the restaurant opened to crowds regularly filling the nearly 150 seats. And, because of its unique kitchen and Gatlinburg's draw from so many different states, the Johnny Rockets there has been tabbed as a test store for the chain.
"Finding a restaurant supply company that is as committed to your success as you are is unheard of. As I look toward opening my second Johnny Rockets, there's no doubt who I'll call to help me build the kitchen," Kennedy says.