Barbecue Joint Owner Appreciates Collaborative Effort from KaTom

A KaTom Project Case Study
It All Starts with Smoke
They say some people dream not in color, but in tones of black and white, as though they're watching a decades-old television. George Ewart's dreams have long been more monochromatic, set mostly in smoky gray.
They started when he was just a boy, when he would join his father in the backyard, by the family's stone smoker pit, a copy of his grandmother's sauce recipe scrawled on a note card close at hand. He had those dreams as he and some friends started cooking pork shoulders and ribs together in 2000. He did when that same group, which coalesced in the cul-de-sac on their dead end road, started entering and winning barbecue competitions in 2002. The dreams were alive in 2007, when they won a Tennessee state championship, and in 2008, when they were invited to take part in the Jack Daniel's World Championship Invitational Barbecue competition.
Though the others he was cooking with faltered, his dream never faded. He kept chasing the smoke until it led him to open what he would name, with a nod to those weekend gatherings with neighbors, Dead End BBQ in his hometown of Knoxville, Tenn. He opened the doors in 2009, at the height of an economic recession, but once the crowds found him and his slow-cooked masterpieces, they never stopped coming and Ewart soon had a new dream – a second location.
"We try to stay true to our background of having a neighborhood get-together. That's the feeling we want to create and that's how we try to run the restaurant every day," he says. "I think that's why we've been successful."
In 2012, Ewart began the search for a site for the second Dead End, eventually settling on a small point of land at the intersection of two main roads in nearby Maryville, Tenn. Though some discouraged him from considering the site, he liked the character of it and the fact that it was across from a high school, just like the original restaurant.
An architect by trade, Ewart handled much of the planning for the building. However, when it came time to design the kitchen and dining areas, he turned to the experts at KaTom Restaurant Supply, whom he worked with on supplying items for the kitchen at the first location since its opening.
"We wanted to look at more of a team effort where we would be working with the same people from design through construction. That makes the whole thing seamless," Ewart explains.
The Team Matters
That team effort started as soon as Ewart contacted KaTom Vice President of Business Development John Chesworth and Project Manager Raymond Ward.
"Raymond actually spent several half days at the Knoxville store, working with the kitchen staff and managers to identify pain points and ways to fix them. He also looked for ways that we could help them improve the efficiency of their new kitchen," Chesworth says.
Ward used the information he gained in that process as he, Ewart, and KaTom's kitchen designers collaborated on designing front- and back-of-house operations. It helped the trio know to include bigger griddles, a single beer tower, and warming boxes that provide more steam than the ones at the existing location, to keep the meat moist until it's time to serve. They also opted for remote condensing systems, to keep noise from the refrigerators, coolers, and ice makers down inside. There are separate lines for prep and cooking, chef bases under the griddles that provide quick access to product, and refrigerated drawers that eliminate the need for constant trips across the kitchen.
"It's helped us be more efficient on the line," Ewart says. "We also got compliments from the health inspector on the design, which is very rare."
To fit into what Ewart calls an "oddly shaped building," KaTom's project management team worked with walk-in cooler manufacturer Thermo-Kool to design irregular-shaped refrigeration units. One of those sits behind the bar at the Maryville Dead End, a unit that holds the store's beer cold in kegs and bottles, which are displayed on shelves behind glass doors built into the side of the cooler. A Perlick Century remote draft beer dispensing system is mounted on the wall that surrounds the cooler, providing an attractive and convenient way to draw drinks.
"The system we've got in there definitely shows the product better," Ewart says.
When the cooler wasn't holding temperatures low enough, it was KaTom's install team that came to inspect it, determined that it was improperly calibrated, and fixed the issue. Since then, Ewart says every pour has been at the perfect temperature.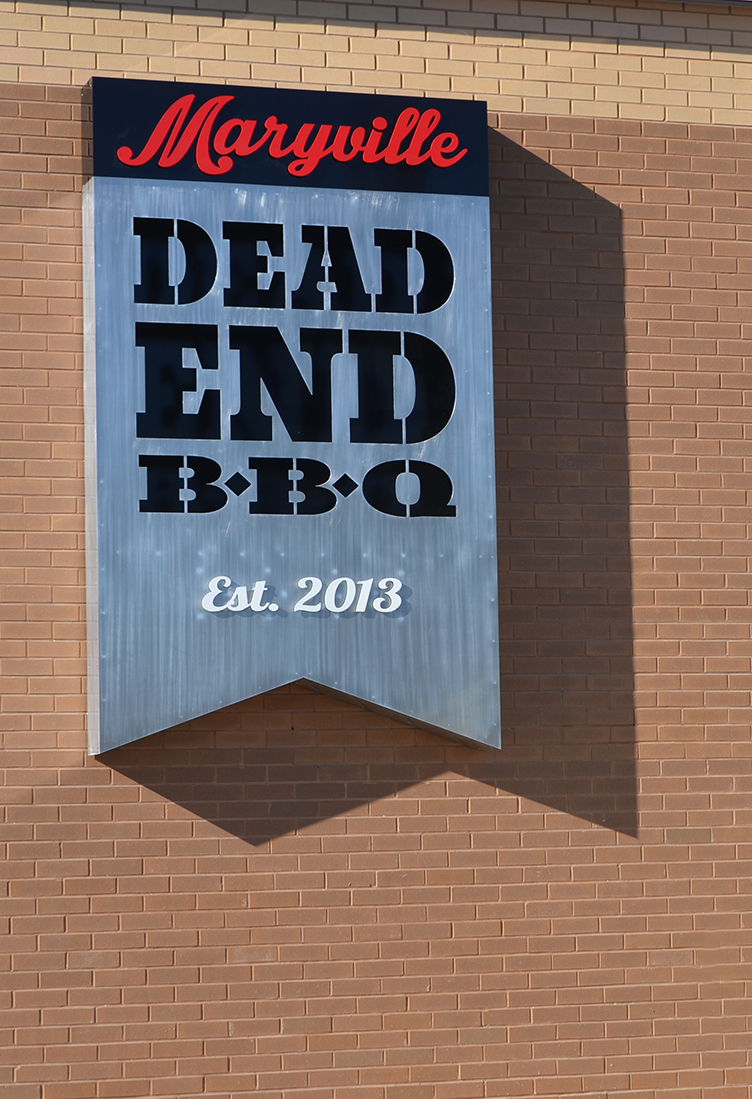 Soft drinks are served over nugget ice provided by a Scotsman Prodigy N1322R-32 commercial ice maker, which can produce up to 1,329 pounds of that crunchable ice every day. That's a good thing, because Ewart says Dead End staff have found they have customers who choose the restaurant specifically for that simple drink addition.
"We get almost as many compliments on our ice as we do on our barbecue," Ewart says with a laugh. "It's just as big as our barbecue. Pellet ice is really the only way to go."
In the front of the house, Ewart knew he wanted to carry through the look established at the Knoxville location, with undulating lines, metal finishes, and a particular dark upholstery.
"Anything that the customer can touch and feel, we wanted it to be the best it can be. KaTom helped us find some furniture that was more economical and a little more durable than what we had at Knoxville," Ewart says. "We had a special-order upholstery that we wanted on the seat and they were able to make getting that to the manufacturer seamless."
Growing with KaTom
Ewart has plans to continue expansion of the popular barbecue joint, which serves up classic smoked dishes like pork shoulder, ribs, chicken, and brisket.
"Our goal as Dead End BBQ is to do five total locations, then step back and analyze where we go from there. We know we want to stay regional, because barbecue is a very regional food and people are very proud of their region's barbecue. We also don't want to be thought of as a chain. We want to be in communities that we can support and be a part of," Ewart says.
No matter how many more units end up selling what Ewart calls, "Knoxville-style barbecue," KaTom will be part of the continued growth.
"I've enjoyed the process of working with KaTom," he says. "The responsiveness we had and the working relationship we had with everybody over there make me want to come back. There's no comparison between KaTom and other restaurant supply companies we've worked with."