Vulcan Fryers Buyers' Guide

Vulcan offers premium gas and electric fryers for operators whose businesses depend on delivering quality fried foods in high volumes. There are several series of Vulcan fryers available, each with several models to choose from. This guide will help you understand the differences between those so you can choose the right one based on your specific needs.
PowerFry Gas Fryers
Vulcan's PowerFry series includes the company's most energy-efficient gas fryers. PowerFry5 and PowerFry3 models are built with FivePass and ThreePass burner systems, respectively. These technologies are designed to maximize the amount of heat that's transferred to the fryer oil so products cook quickly and fuel is conserved. The efficiency achieved by these systems has helped all PowerFry models earn ENERGY STAR certification.
Both PowerFry models include SoftStart technology that raises the temperature of oil gradually, preventing scorching and extending the oil's life. All PowerFry models also include electronic ignition systems that power on the equipment with the press of a button. Here's a comparison of the two PowerFry models.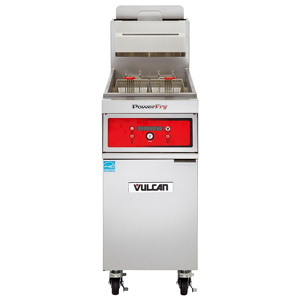 PowerFry5 Gas
The PowerFry5's FivePass heat transfer system transfers heat from the fryer's burners to the oil in five different phases, making this one of the most energy efficient fryers in its class.
Fryer Features
FivePass heat transfer system
Available with 45-, 65-, and 85-lb. oil capacities
Idles at 4,252 BTU/hr. to conserve energy while inactive
Flue temperatures stay below 500 degrees F, even when fryer is cooking at maximum volume
45-lb. model fries as much as 78 lbs. of frozen french fries per hour
78 percent thermal efficiency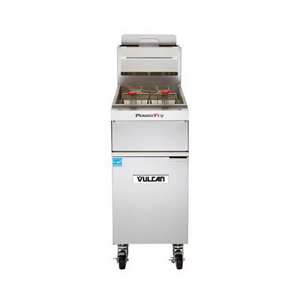 PowerFry3 Gas
The PowerFry3 fryer's ThreePass heat exchange system provides more heat transfer surface area between the equipment's burners and oil than traditional fryers, resulting in quick, energy-efficient cooking.
Fryer Features
ThreePass heat exchange tubes
Available with 45-, 65-, and 85-lb. oil capacities
Idle mode keeps oil hot at 4,318 BTU/hr. to conserve energy when fryer isn't cooking
Flue temperatures do not exceed 750 degrees F
45-lb. model fries as much as 69 lbs. of frozen french fries per hour
72 percent thermal efficiency
Vulcan LG, VEG, and GR Gas Fryers
In addition to the premium PowerFry models, Vulcan offers three additional series of commercial gas fryers.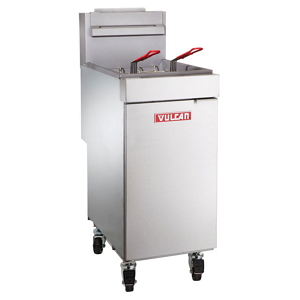 LG Series Gas
Vulcan's LG Series is the company's offering of economy gas fryers. These fryers are available in three sizes, and their accurate millivolt controls operate without an electrical connection.
Fryer Features
Three available sizes: 35-40 lb., 45-50 lb., and 65-70 lb.
11⁄4-in. ball valve drains oil quickly and thoroughly
Millivolt controls require no electrical connection
90,000-150,000 BTU, depending on model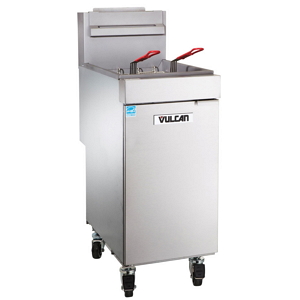 VEG Series Gas
The VEG Series fryer is Vulcan's ENERGY STAR certified, entry-level fryer. It comes in a single 35-40-lb. model and features behind-the-door millivolt thermostat controls.
Fryer Features
35-lb. oil capacity
Millivolt controls detect changes in temperature of 2 degrees F
70,000 BTU
ENERGY STAR certified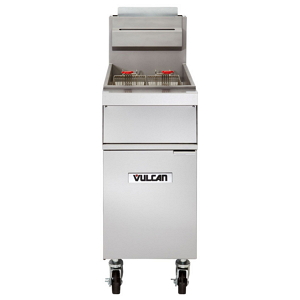 GR Series Gas
Vulcan's GR models are no-frills, medium-volume gas fryers for operators who need reliable equipment without a ton of extra features.
Fryer Features
Available with oil capacities of 35-, 45-, 65-, and 85-lbs.
Available with solid-state analog or high-precision millivolt controls
Includes a tank brush, crumb scoop, and clean-out rod to simplify maintenance
Vulcan ER Series Electric Fryers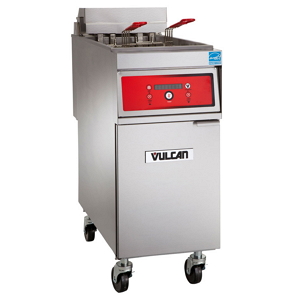 Vulcan's full-size electric fryers are found in the ER series, including a 50-lb. fryer with 17 kW elements and an 85-lb. fryer with 24 kW elements. Those low-kilowatt-density heating elements last longer than traditional electric elements and heat the fryer's oil quickly and evenly.
Fryer Features
Available with solid-state analog, solid-state digital, or programmable computer controls
Available with oil capacities of 50- and 85-lbs.
Long-lasting, even-heating, low-kilowatt-density elements
Includes a tank brush, clean-out rod, and a drain extension
ENERGY STAR certified
Vulcan Fryer Accessories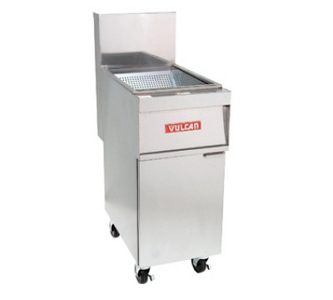 Frymate Dump Station
The Vulcan Frymate dump station provides a durable, versatile solution for holding your fried foods at their freshly fried best. This equipment has the same footprint as a Vulcan fryer, so it integrates seamlessly alongside your Vulcan fryer or battery of equipment.
Equipment Features
Rugged, stainless steel cabinet
Available in two sizes: one to match 35-, 45-, and 65-lb. fryers, and another to match 85-lb. fryers.
Behind-the-door storage area for holding essential tools and supplies
Curved pan makes it easy to scoop fried products
Can be installed on either side of a Vulcan fryer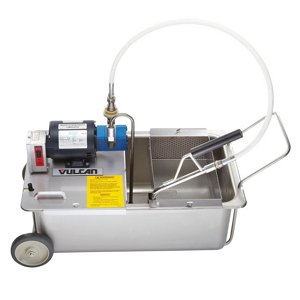 Mobile Filtration System
The Vulcan automatic filtration system makes it easy to filter your Vulcan fryer's oil, extending the oil's life and protecting the fresh taste of your fried foods. A 1⁄3-horsepower motor pumps oil back into the fryer once the filtration process is finished. This equipment includes a 4-foot hose and 6-inch casters that make the unit safe and easy to use and transport.
Equipment Features
Removable crumb catch basket and mesh screen
Removable, 16-gauge oil pan
1⁄3-HP pump returns oil to the fryer
6-in. casters make the unit easy to maneuver across a variety of terrains
4-ft., high-temperature hose is included for pumping oil back into the fryer
Vulcan Controls
Vulcan makes four types of controls for its fryers, but which controls are available depends on the fryer model in question. Choosing the right controls can potentially save you significantly on labor, oil, utilities, and lost product over the life of your equipment.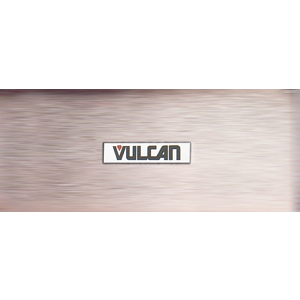 Millivolt Controls (M)
Fryers with millivolt controls can be set to temperatures within a range of 200 to 400 degrees Fahrenheit. Gas fryers with millivolt controls require no electrical connection.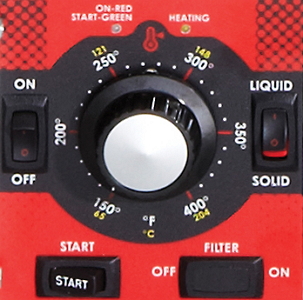 Solid-State Analog Control (A)
Fryers with solid-state analog knob controls provide cooking temperatures between 200 to 390 degrees Fahrenheit. These controls can detect changes in oil temperature as small as 2 degrees from the fryer set point, reacting almost instantly to bring temperatures back up to the set point. These controls provide liquid and solid melt modes.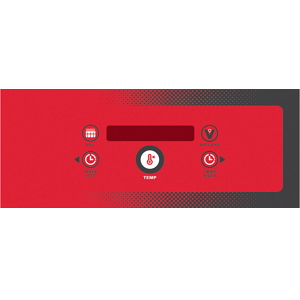 Solid-State Digital Controls (D)
These digital controls also give the user a temperature range of 200 to 390 degrees Fahrenheit to work with. They react to changes of temperature within 2 degrees of the set point and provide three melt options: liquid, solid, and no melt. These controls provide two countdown timers and an automatic, temperature-controlled boil-out mode.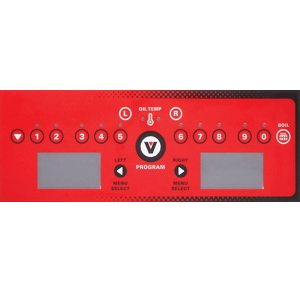 Programmable Computer Controls (C)
Vulcan's programmable computer controls provide accurate control of temperatures between 200 and 300 degrees Fahrenheit, reacting to a drop of 2 degrees from the set temperature to begin recovering temperatures almost instantly. They provide three melt modes, a compensating timer, 10 programmable menu options, and a USB interface that allows menu procedures to be designed on a computer and transferred to the fryer via a flash drive. Menu items and information are displayed on large, clear LCD displays.