Restaurant Booth
Offer your guests the best in booth dining with KaTom's quality restaurant booths. This booth furniture comes in several sizes for you to choose from so big or small we've got it all. Need restaurant booths that will match your existing decor? Find booth furniture in a large variety of designs so you're sure to find the best for your booth dining. Order your restaurant booths with KaTom to experience great selection, pricing, and customer service!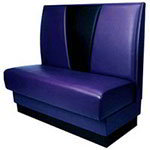 With appealing colors and comfortable padding, these booths can help create the character you want your restaurant to have. These models are clad with durable and easy-to-clean upholstery that ranges from simple vinyl to models with elegant tufted backs. We also offer single and double booth configurations. A variety of colors and patterns are available, from solid colors to bright retro designs and fancy patterns.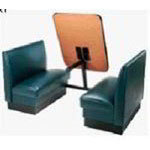 Cleaning underneath booth tables can be quite a chore. Make this job easier for your wait staff by ordering table attachment systems for flip top tables. These flip top booth systems make it easy for you to reposition your table for simple booth cleaning. KaTom Restaurant Supply carries table attachment systems for several sizes of Vitro booths, so you're sure to find the perfect fit! Order the flip top booth system you need at a competitively low KaTom price!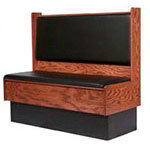 These booths offer a sophisticated look and feel for your restaurant or bar. We offer booths with plain wood backs and seats to upscale models with vinyl cushions and intricate designs. Different stains are available including lighter hues like golden oak and darker finishes like mahogany.