Break Resistant SAN Dinnerware
Super strong break resistant SAN Dinnerware is just as beautiful as it is strong and you will love the styles of the dinnerware series here. At KaTom Restaurant Supply we have a nice selection of SAN Dinnerware. Check us out and order yours so you can start food presentation in ways you've never approached before!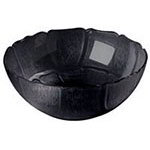 The Petal Mist Collection Dinnerware's delicate design is perfect for buffets, food bars, poolside and catering. Clear, strong polycarbonate is break resistant with textured exterior to hide scratches and a smooth interior for easy cleaning. You'll love that these are safe for use in the freezer and in temperatures from 40 - 212 degrees Fahrenheit. Order your set of the Petal Mist Collection Dinnerware from KaTom Restaurant Supply.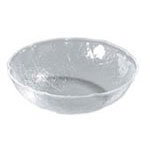 Classy and intricate leaf pattern enhances appearance of salads and other house specialties. Get the Leaf Pattern Collection Dinnerware molded of durable SAN for long life. Available through KaTom Restaurant Supply you'll love the durability of SAN, one of the strongest break resistant materials that is dishwasher safe. Lower your replacement costs and love the presentation of your cuisine.