BUNN-O-Matic 35600.0000 Description
The best coffee starts with freshly ground coffee beans and the Bunn-O-Matic coffee grinder with 2 hoppers is the perfect way to achieve that! This 2 hopper coffee grinder features convenient, front-loading hoppers that hold 6 lbs of coffee beans each. This coffee bean grinder also stores individual coffee grind weight profiles and even has a portion control feature that allows you to grind 3 batch sizes per hopper. The precision burrs provide you with consistent, commercial quality grinds and for added convenience the hoppers serve as storage containers when not in the grinder. The stainless steel finish is easy to clean and will look beautiful for years to come. The locking lid prevents tampering. The hoppers of this coffee grinder are also completely removable for easy cleaning. The LCD alphanumeric display shows coffee names and diagnostics. The tall design of this coffee bean grinder accommodate large brew funnels. The BrewWISE and Smart Hopper features oversee the grinding process from start to finish so that you know that you get perfect results every time. You can even create coffee recipe cards on your PC with the BrewWISE recipe writer!
BrewWISE intelligence means the Smart Hopper manages the grinding and brewing process from start to finish. Smart Hopper tells the grinder what coffee is in it through a microchip in the hopper. Grinder adjusts the grind time for each batch to deliver just the right grind volumes. Grinder communicates coffee name to the Smart Funnel, during grinding process. BrewWISE brewer reads the information in the Smart Funnel, adjusts the recipe, and brews a batch of coffee. Create coffee recipe cards with BrewWISE recipe writer on your PC.
MHG Multi-Hopper Coffee Grinder, portion control, two hoppers hold 6 lbs coffee beans each, 3 batch sizes per hopper, accepts large brew funnels. 2 hoppers included. Funnel not included.
BUNN-O-Matic 35600.0000 Specifications
BUNN-O-Matic 35600.0000 Reviews
BUNN-O-Matic 35600.0000 Accessories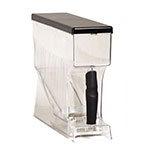 BUNN-O-Matic 36845.0000 Hopper/Lid Assembly, For MHG Grinders
BUNN-O-Matic
SKU: 021-368450000
$85.32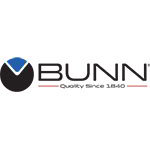 BUNN-O-Matic 39159.0000 Grindz Coffee Bean Grinder Cleaner
BUNN-O-Matic
SKU: 021-391590000
$34.56
BUNN-O-Matic 35600.0000 Comparable Products
Product Accessories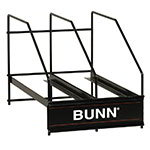 BUNN-O-Matic 36760.0000 Hopper Rack, 2 Position, For MHG 6 lb Hoppers
BUNN-O-Matic (36760.0000)
SKU: 021-367600000
$56.88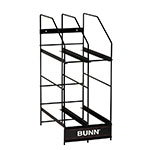 BUNN-O-Matic 36760.0001 Hopper Rack, 4 Position, For MHG 6 lb Hoppers
BUNN-O-Matic (36760.0001)
SKU: 021-367600001
$76.68
Comparable Products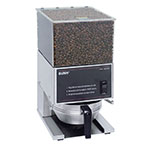 BUNN-O-Matic 20580.0001 LPG Low Profile Portion Control Coffee Grinder, 1 Hopper, S/S Finish
BUNN-O-Matic (20580.0001)
SKU: 021-205800001
$497.70
BUNN-O-Matic 26800.0001 Low Profile Portion Control Coffee Grinder, 2-Hoppers & Legs
BUNN-O-Matic (26800.0001)
SKU: 021-268000001
$763.35