American Dryer GX1 Description
This American Dryer Automatic Hand Dryer is designed with your business as well as the environment in mind. The ABS covered, ExtremeAir dryer is a product of both style and practicality with its quality and maintenance free engineering.
This American Dryer will completely dry hands in 10-15 seconds as it is two to three times faster than other conventional hand dryers. To save you loads of cash, this dryer was found to use up to 80% less energy than other dryers in its category being your best option for sanitary needs. The white ABS casing is made from a flame retardant finish and was designed for surface mounting. The highly efficient ExtremeAir American Dryer is the best choice for your business while keeping the environment safe.
American Dryer's GX Series hand dryers hail from a long line of reliable, American made commercial products. American Dryer has been producing dependable and affordable commercial hand dryers for over 55 years. This ABS GX Series automatic hand dryer continues to uphold the company's standard of quality products and is hand tested by an experience technician.
The commercial hand dryer has a stylish, one-piece cover is flame and vandal resistant. This compact automatic hand dryer has a permanently lubricated, 1/12 HP, 3200 RPM motor that is virtually maintenance free. This hand dryer has a heating element that operates in the black range to extend the life of the element.
There is an automatic sensor which will turn on air when hands are under the outlet, and then turn off the air flow when hands are removed. In order to be more energy efficient, an automatic override turns off the air flow after 80 seconds.
American Dryer's automatic hand dryers are not only highly durable and reliable, but are also the most cost efficient and sanitary choice for your business needs. On average, this dryer will pay for itself in only 12 months by eliminating the need for paper towel products and using up to 80% less energy than other conventional hand dryers. Typically, a restaurant will use 90 cases of paper towels per year, resulting in costs of over $2,000.00 The annual cost to operate an American Dryer unit is, on average, $96. In only a year, your business will save over $1,900.00! This will allow your food service or public school business to increase profit and eliminate mess!
American Dryer's economically friendly stance is yet another benefit to purchasing this amazing product. These commercial hand dryers help to protect the environment by eliminating the need for paper towels, which cannot be recycled. Unlike paper towels, electric hand dryers do not cause pollution or consume natural resources. For every ton of paper towels produced, 20,000 gallons of our earth's water is polluted and 17 trees must be cut down. By meeting all of these requirements, this American Dryer product is listed by GreenSpec as an environmentally friendly product and qualifies for LEED (Leadership in Energy and Environmental Design) credits.
Hand Dryer, white polymer finish, maintenance-free vandal resistant design, infrared sensor, 1/12 HP, 3200 RPM, automatic shut off.
American Dryer GX1 Specifications
Product Spec Sheet
Manufacturer: American Dryer
Watts: 1500 Watts
Warranty: 5 Year Limited Warranty
Voltage: 110-120 Volts
Type: Best Value Hand Dryer - GX Series
Controls: Auto on/off, 80 Second Limit
Cover: White ABS Polymer
HP: 1/12 HP
Hertz: 50/60 Hertz
Amps: 12 Amps
Category: Hand Dryers
Weight: 8lbs.
American Dryer GX1 Reviews
American Dryer GX1 Comparable Products
Comparable Products
Dyson AB04 Dyson Airblade Automatic Hand Dryer, Quick, Efficient, Hygienic, Poly, Grey
Dyson (AB04)
SKU: 082-AB04
$1,199.00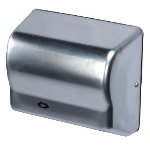 American Dryer GX1-C Automatic Hand Dryer with Chrome Finish 120V
American Dryer (GX1-C)
SKU: 155-GX1C
$225.00