Water & Energy Conservation Products
Switch from water wasting faucets and pre rinse units to water and energy conservation products from KaTom! By using water and energy conservation products in your restaurant or business you can be sure you'll be helping to conserve precious H2O and save money on your water bills! KaTom carries water and energy conservation products for the kitchen and restrooms so you can be sure you'll find what you need! Order water and energy conservation products with KaTom today!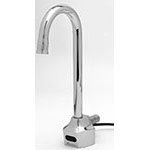 Keep your restrooms clean and lower your bills with an electronic faucet. These fixtures sense when there is a user to start water flow and shut off when not in use to save water and lower utility bills. We offer a wide variety of decorative styles and types in both standard sizes or tall gooseneck lengths. Available in both wall and deck mounted types. Remember to note the water inlet and faucet cutout sizes when ordering to ensure the proper fit to your equipment.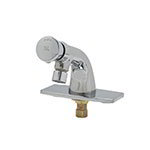 Save water and money with a metering faucet. Great for high volume public bathrooms in restaurants, cafeterias, fast food establishments or theaters, metering faucets deliver a predetermined amount of water and then automatically shut off. Push button designs make these faucets economical and easy to use. Available in wall or deck mount models, it is important to note the water inlet and faucet measurements when ordering to provide the proper equipment to fit your needs.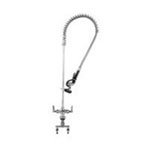 New technology allows you to use up to 45% less water while still maintaining the pressure needed to clean and rinse items before they go into the dish washer. Pre-rinse units with low flow technology will allow you to conserve water, helping to lower your monthly water bills. Units are available in both spring mounted and ergonomic roto-flex style units, or you can purchase the hose with low flow spray head alone to replace your existing sprayer. When ordering it is important to keep in mind the size of water inputs and faucet measurements to ensure a proper fit.