A Guide to Wüsthof Knives

Wüsthof knives are produced by a family-owned company that's been "Defining the Edge" since 1814. The company's dedication to crafting superior knives is expressed in its slogan, which indicates a desire to lead in both innovation and quality, and its trident logo, which symbolizes diligence, passion, and perfection. Backing up the company's claims is its location in Solingen, Germany. Known as "The City of Blades," Solingen's name is trademarked and the city requires that any knives bearing its name meet specific standards for quality and craftsmanship.
Wüsthof cutlery can be found worldwide, in commercial kitchens run by seasoned chefs and in the hands of at-home culinary enthusiasts. KaTom proudly offers a variety of knives from five different Wüsthof series, including classic cook's knives and Asian-style Santoku knives, versatile utility knives, and specialty knives for specific ingredients. Below, you'll find a guide to each series and style so you can choose the best Wüsthof knives for your kitchen.
Wüsthof Cutlery for Every Chef
Wüsthof knives are either forged or stamped from one piece of high-carbon stainless steel. Forged knives are heat-molded from tempered steel and sharpened with the company's Precision Edge Technology, or PEtec, to provide a 20-percent-sharper blade than knives sharpened with traditional methods. Stamped knives are created through a precise, 14-step, laser-cutting process.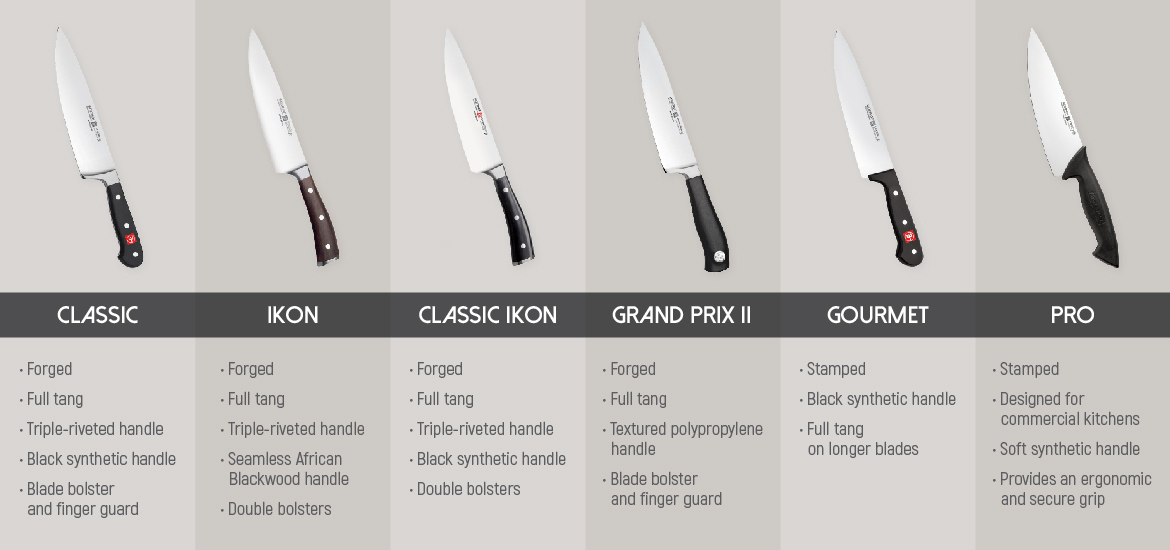 Classic series knives are forged and, as the name suggests, have a traditional look with a triple-riveted handle. The black synthetic handle is fitted to the full tang and resists fading and discoloration. The blades in this series include a bolster and finger guard for added comfort and grip.
Dubbed "the jewel of our collection" by Wüsthof, the forged Ikon series offers triple-riveted handles with full tangs. The seamless handle is made from African Blackwood, a dark brown wood that gives these knives durable handles. Knives in this series are set apart by double bolsters for improved weight and balance, with a full bolster at the end of the handle and half-bolster at the end of the blade, which doesn't interfere with sharpening.
Forged knives from the Classic Ikon series also offer full-tang, triple-riveted handles made from a durable synthetic material. Like the Ikon series, these knives have double bolsters for additional balance and heft.
Grand Prix II knives are also forged with full tangs, although it is hidden by the textured, polypropylene handle, which is designed to be comfortably and securely gripped. These knives include a full blade bolster and finger guard.
Like other Wüsthof knives, the stamped Gourmet series is designed with a black synthetic handle, which is durable and resistant to fading. Knives in this series measuring longer than 12 centimeters (about 41⁄2 inches) have full tangs. Full tang provides a heavier handle that allows for increased force, which may not be necessary for shorter knives being used to cut smaller ingredients.
Pro series knives are designed with input from chefs for use in professional kitchens. The handles are constructed from a soft synthetic material and are shaped to provide an ergonomic grip; that material is also slip-resistant to ensure a secure grip.
Find the Wüsthof Knife You Need
It's important to know that Wüsthof knives can have a straight edge, serrated edge, or hollow edge. A straight edge is the traditional and versatile blade edge found on most knives. A serrated edge has ridged teeth and is designed for food with a soft texture inside, like tomatoes or bread, which might be damaged by straight edges, while a hollow edge, which has a number of shallow indentions, helps achieve a clean cut and prevents food from sticking to the blade.
Wüsthof produces a wide variety of knives to guarantee you'll find the one you need for the task at hand. KaTom offers a general knife guide, but the knife types offered by Wüsthof are also covered below.
Some knives are more versatile than others, and many chefs consider a Wüsthof cook's knife to be an essential kitchen knife. It can be used to finely or coarsely chop, mince, and dice a variety of ingredients. Similar to a cook's knife in its versatility, the Wüsthof Santoku knife is an Eastern-style knife with a hollow edge and thinner blade, providing additional efficiency for chopping, dicing, and slicing. A Wüsthof utility knife is a multipurpose knife with a serrated or straight blade that can be used for mincing vegetables, cutting meat, and other tasks. For trimming, slicing, and peeling, a Wüsthof paring knife has a straight blade that tapers to a point for additional precision.
Other knives are designed for more specific purposes. Wüsthof peeling knives have curved blades, similar to a bird's beak, that makes them perfect for removing the skin from vegetables like potatoes. You may want a Wüsthof boning knife for de-boning chicken and pork, a Wüsthof carving knife for meat or larger produce like watermelons, or a Wüsthof cleaver to cut through bone and prepare large cuts of meat or tough vegetables.
The best application for some knives is easily identifiable by their name. You'll want Wüsthof fillet knives, which have long and flexible blades, for filleting fish and other delicate meats. Wüsthof bread knives usually have serrated edges that can handle everything from crunchy crusts to delicate cakes, and Wüsthof tomato knives have serrated edges to cut through tomatoes without damaging the soft bits inside.
Need Help Choosing a Knife?
If you need additional help deciding which Wüsthof series is right for you, please contact one of our helpful customer care representatives by calling 1-800-541-8683 or e-mailing us at sales@katom.com.