Get a 5-year warranty on Witt Outdoor Series trash cans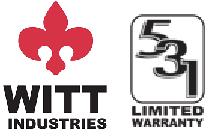 For most people trash cans are sort of like urology exams – mostly unpleasant and something they only think about when they need one. But Witt Industries has spent more than a century trying to change that, making beautiful, high-quality trash receptacles that are also durable enough to stand up to any demands or conditions. To help make their garbage cans more attractive, they've created a warranty unparalleled in the industry, covering their Outdoor Series metal products - which include trash receptacles, recycling containers, and outdoor benches - with protection of five years for the structure and three years for the special coating.
From galvanized cans to a new way to think about trash receptacles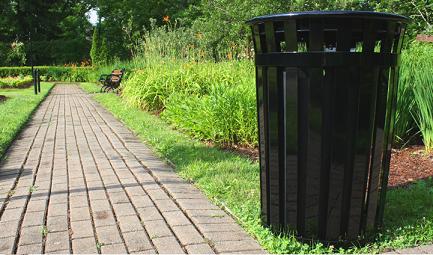 Witt Industries was founded on humble galvanized steel trash cans, which gave people somewhere besides the street to put ashes from their homes' heating fires. Since then, it has built a reputation on crafting durable metal trash receptacles from the simple to the ornate. That includes the Outdoor Series products, which offer decorative touches rarely found in garbage cans. From elegantly-designed simple metal slats, to intricately fashioned cylinders that have the look of sawgrass fronds or cathedral windows.
Witt has also changed how people think about trash receptacles. The company has put ash urns on top of trash cans and offered swing-out doors for easy access. Now, they've taken that latter concept another step, offering a carousel design with a door that slides on a Teflon-coated track. That eliminates the need for space to swing out the door and the risk created by doors that aren't latched properly.
Witt Industries offers garbage cans that combine form and function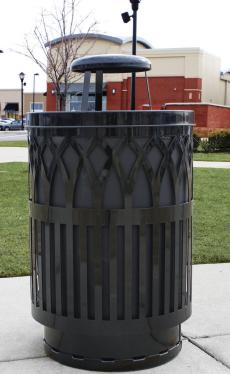 You may not have realized it, but once you see the full line of Witt Industries trash receptacles, you'll likely realize you've used the company's products at a restaurant, city park, stadium, or other similar location countless times. With tough steel construction, beautiful polyester triglycidyl isocyanurate (TGIC) powder coating, impressive design, and the ability for the customer to put a unique logo on each of these garbage cans, it's easy to see why Witt's trash cans are so popular.
That TGIC polyester coating enables the company to stand behind its trash cans built for the most demanding conditions with full confidence. For Outdoor Series metal trash receptacles, with the exception of EXP models, the company offers a limited 5-year warranty against structural failure and a 3-year warranty on the TGIC coating, in addition to a 1-year warranty on any other parts.
Get 5-3-1 warranty protection on recycling containers, too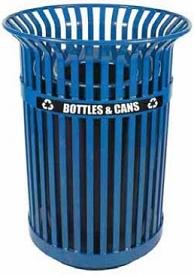 The same protection is afforded to certain recycling containers in the Witt Industries Outdoor Series, including the Wydman recycling containers and Queen City recycling containers.
Like the trash receptacles covered above, these recycling containers come with a plastic liner. Also included at no extra cost are leveling feet, an anchor kit, and a lid cable.
The recycling containers that get the protection include the 36-gallon WCR36-FTR-BL recycling container and the 50-gallon QCR recycling container models.
Have a seat: Witt Industries Oakley Collection outdoor benches also have industry's longest warranty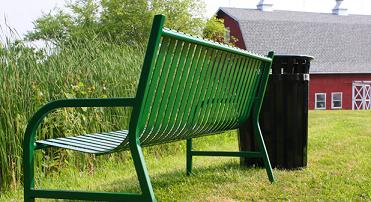 Witt Industries has also put the 5-3-1 warranty on its line of Oakley Collection outdoor benches. These elegant steel slat seats can stand up to even the harshest weather conditions thanks to the TGIC polyester coating, which, in addition to protecting the metal from the elements and against rust, is designed to hold its color better than standard paints, even in direct sunlight.
The Oakley Collection outdoor benches are available in black, brown, green, or silver. They come with an anchor kit at no extra cost and range in size from 4-feet to 8-feet long.
Those buying one of the Witt Industries outdoor benches will be offered several choices in design. Witt offers them with two arm rests on either end and even with an extra one in the middle. There are benches with backs and ones that just offer a seat. Among those backless benches, there are also options on arm rests from two to three.
Trust KaTom for help choosing your Witt Industries trash receptacles, recycling containers, and outdoor benches
For more information on this impressive warranty on Witt Industries garbage cans, recycling containers and outdoor benches, and the warranty offered on them, please browse the Witt section on our website, or you can contact one of our helpful customer service representatives by calling 800.541.8683 or e-mailing info@katom.com.