Waring Celebrates 75 Years of Innovation Around the Kitchen and Around the World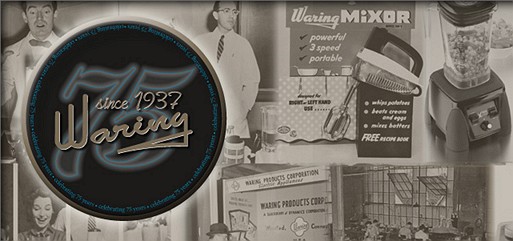 From politics to pop culture, births to deaths, 1937 was a busy year for America and the world. President Franklin Delano Roosevelt took the oath of office for the second time, the Hindenburg hit a receiving tower and burst into flames, and the Golden Gate Bridge opened to the public. In the same year Amelia Earhart disappeared, Volkswagen, Daffy Duck, Spam, and The Hobbit all made their debuts. Along with them, the world was introduced to the Civilian Conservation Corps, George Takei (Oh, my!), Frankie Valli (Oh, what a night!), Bill Cosby (Oh, pudding pops!), and a statue of cartoon character Popeye in Texas.
We point all this out not because we expect to be a source for high school students writing history reports, but to give you some context. One thing we left off the list above is the founding of the Waring company, producer of both Waring Commercial and Waring Pro residential kitchen equipment. Since entertainer Fred Waring first wowed crowds with a new act – demonstrating the "Miracle Mixer," the first modern electric blender – back in 1937, Waring has been the go-to for mixing and blending in plenty of kitchens.
Beginning in 1970, 16 years after the 1 millionth Waring blender was sold, the company expanded its product line, offering additions like an automatic citrus juicer, a home ice cream maker, and hand mixers. Waring Vortex Blenders, and the Under Cabinet Blender/Can Opener came on board in 1985, the same year the company split into two divisions – Waring Commercial and Waring Pro – to represent that it was producing both commercial and residential kitchen equipment.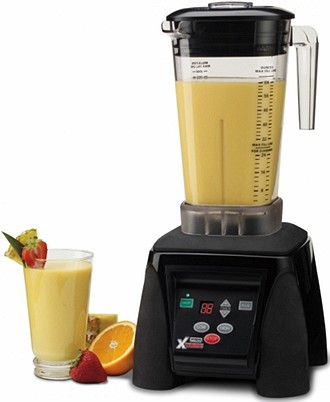 To that point, the entirety of the product line was built on a motor similar to the one Fred Waring put into his first Miracle Mixer, at least insofar as they all were about circles. Blenders go in circles, can openers go in circles, and even ice cream makers go in circles. But in 2000, the company took a big leap by introducing deep fryers and food slicers. Waring would follow that with its popular Belgian waffle maker, which would sell 1 million units in just 7 years. Also introduced in recent years are griddles, toasters, and immersion blenders, that make creating emulsions a snap.
Waring Commercial Mixes it Up: From the Kitchen to the Laboratory
Along the way, Waring has notches some pretty amazing accomplishments. Waring products have been part of some of the greatest culinary masterpieces of the last 75 years, sure. But, did you know they were also part of saving countless lives from the middle of the last century to the modern day?
In the early 1950s, Dr. Jonas Salk was part of an army of scientists working to find a way to prevent polio, which was crippling and killing tens of thousands of children every year. As part of his process to develop a vaccine that was ultimately effective at preventing the infection, Salk used a Waring Blendor, as it was called then.
To this day, Waring blenders, as they're called now, and other products from the full line of Waring products are a part of innovations from the kitchen to the laboratory. Maybe the culinary and scientific discoveries they're helping make now aren't as world-altering as the polio vaccine, but they're still creating something amazing every day with your help.
KaTom Delivers a Full Line of Waring Commercial and Waring Pro Products
Whether you need to create a perfect gazpacho in your restaurant kitchen, toast up some bagels for breakfast before you leave your house in the morning, or put your own spin on science, KaTom has the Waring products you need. For more information on the full line of Waring Commercial items we offer, we have a Waring overview piece detailing each of these products.
For further help choosing the right Waring Pro or commercial kitchen equipment, please contact us at 1-800-541-8683 or info@katom.com.