A Guide to the Full Line of Great Waring Commercial Products, from Waring Blenders to Waffle Makers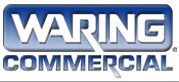 Despite having one of the most popular mixing devices ever produced, Waring Commercial has not rested on the laurels of a top-notch blender. Far from it, they've continued to innovate and now, Waring products are found across the typical commercial kitchen. From food processors to deep fryers, drink mixers to griddles, you're likely to find Waring Commercial kitchen equipment on more than one counter in the typical foodservice operation. So, let's look through the Waring Commercial offerings and what sets them apart.
Waring Commercial Blender: The Kitchen Equipment that Started it All
Since Waring began with the blender, it makes sense that we would, too. While Fred Waring only brought the one type of blender to the market, the company today produces three distinct variations.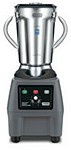 The Waring Commercial One-Gallon Food Blender
These Waring products make it remarkably easy to produce everything from cold gazpacho to hot sauces. Waring food blenders have stainless steel, thick glass, or polycarbonate containers, which are durable enough to stand up to the toughest jobs. All are built for heavy usage with features like easy-to-clean electronic membrane control panels and motors that charge up to 3.75-horsepower. In addition to general-use food blenders, Waring also offers specialty items like the Señor Salsa food blender, which, as you may guess, is perfect for creating tasty salsas. Waring food blenders are great for large restaurants, healthcare facilities, schools, and other large-scale and institutional settings.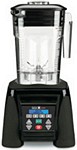 The Waring Hi-Power Xtreme Blender
As the name suggests, these are heavy-duty Waring blenders that can power through more than 75 drinks in a day, making them great for smoothie and coffee shops, restaurants, bars, and institutional settings. Many of these food and drink blenders come with The Raptor, a 64-ounce, stackable, copolyester beast of a blender container designed with an ultra-aggressive blade and a shape that creates a vortex to promote blending. If you don't get a Raptor, you still get either a 64-ounce stainless steel container or a 48-ounce stackable copolyester container.
As an added plus, several blenders in this category come standard with or offer the option of pairing with one of Waring's innovative unbreakable sound enclosures. The polycarbonate covering snaps closed around the blender and cuts noise output by up to 30 percent. That's a big deal for bars where drinks are made in the customer area and noisy kitchens.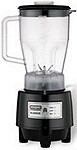 The Waring Commercial Drink Blender and Bar Blender
This category includes a wide range of Waring drink blenders with as broad a variation in their capabilities. Some are great for bars making 24 or fewer drinks per day. Others are perfect for anywhere from 25 to 74 drinks per day, fitting from light-duty to high-traffic foodservice operations. They offer features like metal-reinforced drive couplings, high-powered motors, and max pulse settings that ensure a complete and smooth mix.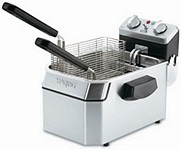 The Waring Deep Fryer Offers Countertop Convenience with Customization
For light-traffic establishments that need a small countertop commercial fryer or larger operations that need something to supplement their floor model units, a Waring Commercial deep fryer could be the perfect fit. With frypots ranging from an 8.5-pound fat capacity to double fryer batteries, each with a 17-pound capacity, they've got the capacity to produce up to 20 pounds of fries per hour. Still, they have a compact footprint and the features you want, like a timer to prevent product loss and variable temperature controls that range up to 390 degrees F. The elements swing up and the frypots lift out for easy cleaning, and each model except the smallest WDF75RC comes with one night cover per frypot.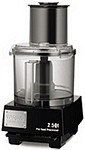 A Waring Food Processor Can Innovate the Way You Chop, Slice, Dice, and Shred
Those in foodservice have known for years about how a food processor can make some common kitchen tasks like slicing, shredding, grating, chopping, and pureeing far easier. But with features like large continuous-feed chutes and available stainless steel bowls, a Waring Commercial food processor offers convenience similar kitchen equipment doesn't. On top of those selling points, several models also feature Waring's patented Liquilock Seal System, that protects your food and your kitchen. A sealed batch bowl keeps liquids in the bowl, and sealed blades and discs keep mixtures from seeping out the bottom of the unit.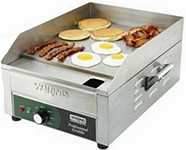 Get Cooking on the Level with a Waring Commercial Countertop Electric Griddle
Waring Commercial countertop griddles are designed to ensure even heat distribution. They accomplish that with a single element that heats up to 570 degrees F and snakes under the entire brushed stainless steel plate. That makes them great for eggs, pancakes, hamburgers, chicken, and vegetables. An extra-tall steel splashguard keeps in grease and prevents spills, while an oversized and removable grease tray furthers those efforts. The WGR140 offers a 14-inch by 16-inch grilling surface, while the WGR240 measures at 24-inches by 16-inches.

Waring Immersion Blenders Can Put a Handy New Spin on Your Drink Offerings
Waring immersion blenders are versatile, powerful, convenient, and available in plug-in and cordless models that can work for as much as an hour on a single charge. The line includes the Quik Stik series, light- and medium-duty models that each bring a powerful and highly efficient motor. Waring Quik Stik models can emulsify from 3 gallons to 6 gallons at a time.
Meanwhile, the Waring Big Stix series brings the heavy-duty power needed for tougher jobs and larger kitchens. With models that use whipping beaters to mash up to 50 pounds of potatoes in one minute and, of course, emulsifying attachments, a Big Stik could be the kitchen equipment you've been missing. The Big Stik models feature 1-horsepower, 750 watt variable speed motors capable of 18,000 RPM to power through just about anything you can mix up. Shafts are available 12-, 14-, 16-, 18-, and 21-inch lengths, and each works with a single power pack.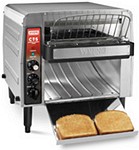 Waring Toasters are Great in Front-of-House and Back-of-House Functions
Whether you're buying kitchen equipment for a continental breakfast bar in a small hotel or gearing up to serve toast to thousands of people per day, Waring Commercial toasters can fit the bill. From pop-up units with two extra-wide slots to conveyor systems that can produce as much as 1,000 slices per hour, Waring products cover it all. Two- and four-slot Waring pop-up toasters offer wide and long slots for bagels and thickly-sliced breads; electronic browning controls; and can produce up to 225 slices per hour. Conveyor toasters from Waring Commercial offer super-quick heat-up times, conveyor speed controls, cool-touch side panels, and can produce from 350 to 1,000 slices per hour.
A Waring Juicer Can Help Boost Your Bottom Line with High-Profit-Margin Products
Drinks with freshly-extracted juice in them can fetch a premium from bars to concession stands. In fact, profit margins for lemonade can run as high as $5 per cup from a product that costs around 30 cents to produce. Fresh juice from a Waring Commercial juicer can also be integrated into smoothies, recipes, and countless other projects in the kitchen. For simplicity, go with the Waring BJ120C or Waring JC4000, both automated versions of the time-trusted citrus reamer. To go upscale or make more interesting juice combinations, opt for the Waring 6001C, Waring JE2000, or Waring 5001 juice extractors. They can get the flavor fluids out of everything from root vegetables to apples, and each catches the pulp either in the unit or with a pulp-election system.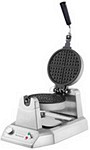 Waring Commercial Waffle Makers Make Any Breakfast Feel Special
One of the newest additions to the company's line of products, the Waring Belgian waffle maker has no less become a standard in millions of kitchens. In just the time between its introduction in 2003 to the end of the last decade, more than 1 million of them were sold. And no wonder, since it allows even regular folks to create chef-quality hotcakes. Found on almost every continental breakfast bar in America and in restaurant kitchens everywhere, they create from 25 to 60 delicious waffles every time thanks to their design that calls for flipping the griddle. Doing so allows for even heating and creates those pockets of air between the crunchy, chewy layers that make for a wonderfully light breakfast treat. There's also a model that allows you to create fresh waffle cones, a huge profit booster for ice cream shops.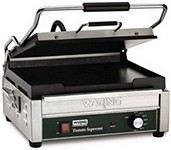 Create Perfect Pressed Sandwiches with a Waring Panini Grill
Another newcomer to the line, the Waring Panini grill has also enjoyed the reception the waffle makers got. With two cast iron plates that provide even heating, a hinged design to accommodate foods up to 3-inches thick, and a thermostat that goes to 570 degrees F, it's easy to see why. Not just for sandwiches, the optional ribbed plates provide a great cooking option for everything from meats to vegetables. Of course, with the growing popularity of sandwiches like the Panini and the Cuban, you may need more than one of these countertop units if you plan to do anything other than grill sandwiches.
KaTom has the Full Line of Waring Commercial Products at Wholesale Prices
When you're ready to add Waring Commercial products to your kitchen equipment lineup, trust KaTom for great service and value. For more guidance in choosing the right Waring products for your facility, please contact us at 1-800-541-8683 or info@katom.com.