Vulcan PowerFry VK Series Commercial Fryers are an ENERGY STAR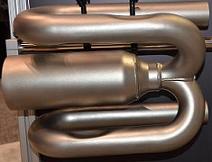 In the belly of the Vulcan PowerFry VK commercial fryer, inside the vat of oil, sits what looks like a modified automobile muffler. Two thick metal pipes curl around its circular metal body while inside, metal flaps oscillate as hot air is forced over them.
This is the heat exchanger in the PowerFry commercial fryers, an element that helps make them so efficient that they've earned California Energy Wise certification, which may qualify buyers there for a rebate. They recently received an award naming them one of the most innovative products of the year. The good folks at ENERGY STAR have also deemed the Vulcan VK Series the most efficient commercial fryer family they've ever tested.
Bringing Convection Heating to Commercial Fryers
That heat exchanger makes the Vulcan PowerFry VK Series the closest kin convection ovens have among commercial fryers. In a typical tube-type unit, heat is pushed from its source on a single pass through a row of pipes in the frypot before it's released through the flue. It works fine, but it's not especially efficient because the heat has to spread slowly throughout the oil.
That's why Vulcan invented the FivePass Heat Transfer System, which is built around that curving heat exchanger. The hot air is pushed through the main cylinder and around a row of flapping metal discs that keep it full of energy and circulating so temperatures are consistent. It then branches out into the smaller tubes, circling through the frypot of the VK Series commercial fryer and through a big part of the oil in the unit. By the time it reaches the flue, it's made five passes through the oil, meaning its heating potential has been fully used. That's what earned it the accolades from ENERGY STAR.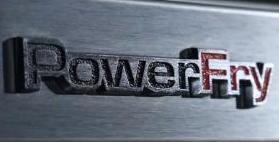 That process allows for an even heating of more of the oil at one time, while also utilizing the full potential of the heat source, whether you choose a gas or electric commercial fryer. Because of that, the Vulcan PowerFry VK Series is rated to be up to 78 percent efficient, meaning it makes the most of the energy it uses. That allows it to use less power to provide better results than other commercial fryers, producing from 78 to 91 pounds of French fries per hour.
Because it's making more use of the heat it creates, a Vulcan PowerFry VK Series commercial fryer offers extremely fast recovery between batches so you can get back to work instead of waiting for the oil to warm back up. The PowerFry commercial fryers can also extend the life of your oil by preventing burn-off in the preheat process. With more surface area for the heating element, they can get to needed temperatures with less heat in the exchanger, which protects the quality of the oil. Vulcan calls this SoftStart Ignition.
A Vulcan PowerFry VK Series Commercial Fryer Right for Your Kitchen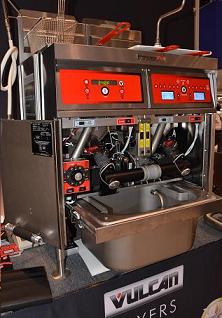 PowerFry units are available in electric, natural gas, and liquid propane models. All of them are ENERGY STAR and California Energy Wise certified. Vulcan also offers these commercial fryers with solid state, solid state digital, and computer controls, as well as in one-, two-, three-, and four-fryer battery units.
Finally, you also have the option of models with Vulcan's exclusive KleenScreen Plus, a patented automatic oil filtration system. It drains and screens the oil from the frypot, achieving extraordinary purity down to the level of microns for your commercial fryer. That not only protects the quality of your fried foods, it also can extend oil life by 2 to 6 times what it would be without filtration. That cuts down on how much oil you have to buy, which means reducing the bill for the most expensive part of owning a fryer.
KaTom has a Full Line of Vulcan PowerFry VK Series Commercial Fryers
For help shopping for the right Vulcan PowerFry VK Series commercial fryer for your kitchen or for more information about these impressively efficient units, please contact one of KaTom's helpful customer service representatives at 1-800-541-8683 or info@katom.com.